VGRA and VBIB Launch Economic Development Program
August 17, 2020 10:46 pm | Posted in Business News | Share now TwitterFacebook
Adorina Massing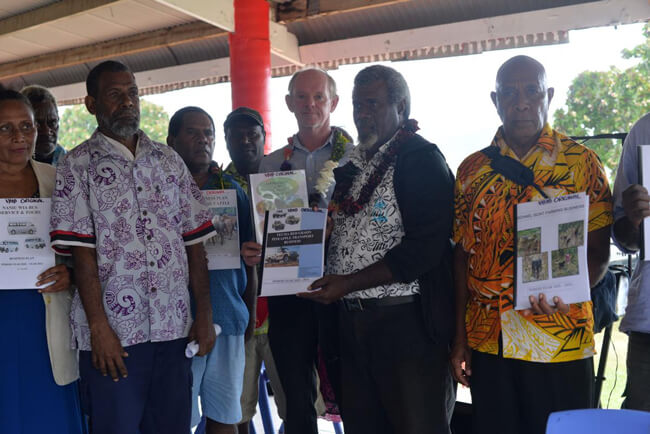 The Vanuatu Business and Investment Brokers (VBIB) in collaboration with the Vanuatu Grass Roots Association (VGRA) have launched their Economic Development Program yesterday at Feiawa park (Seafront) with aims to achieve economic self-reliance.
The ceremony covered the launching of development reports made by each farmer as members under VGRA.
From a total of 60 business reports, only 20 were filed and launched during that day. Each compiled booklet comes with a fee of Vt25,000.
These distinctive reports will be browsed and inspected individually by the VBIB who will then assist each farmer in achieving their goal as stated in their business development plan.
The business development booklets were officially launched by the Chairman of Town Planning Port Vila City Councillor, Madlen Tapau.
Registered in 1996, VGRA is purposely created to assist farmers and fishermen in all backgrounds, to become self-sufficient and to earn enough profit which can improve their standards of living.
During the launching ceremony, Pastor Ernest Tabirap has emphasized on the three underlined pillars which supports the economy as a whole.
"In order to achieve economy self-reliance and prosperity, there has to be a good network between the three pillars or leaders in a nation: Chiefs (Cultural), Pastors (Spiritual) and Government (Political)."
Vanuatu National Council of Women (VNCW) Chief Executive Officer, Leiasmanu Cullwick took the chance to highlight the vital roles of women in economic and social development and plead for the Government to recognize women's needs as a priority.
VBIB President, Kalo Kalran Raruawia has encouraged the farmers to always be proud of their hard work as sole contributors of the economy.