VBL Donates Medical Supplies to VCH
July 1, 2020 12:01 am | Posted in Business News | Share now TwitterFacebook
By Adorina Massing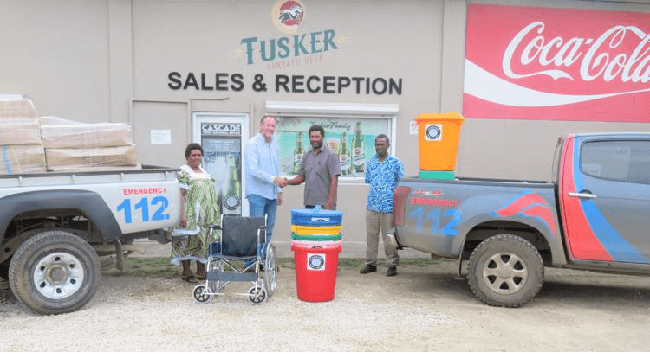 The Vanuatu Brewing Limited (VBL) has donated a range of medical supplies to the Vila Central Hospital (VCH) last week to ensure there are proper health benefits available for the people.
The handing over was made by the VBL General Manager, Mr. Hervé Michel to the VCH Medical Superintendent— Dr. Tony Harry and Acting General Services Manager, Mr. Paul Makikon.
The donation consists of 10 wheelchairs for adults and 5 for children, including 10 rubbish bins which were donated to support and keep the hospital premises clean and free from littering.
GM Michel further announced that the Vanuatu Brewing Ltd will continue its generous support by making further donations in the upcoming months.
He added that in these complicated times with the COVID-19 and Government's State of Emergency (SOE) imposed, "people need an efficient hospital and Vanuatu Brewing Ltd is more than ever happy to be of service by making such donation that will greatly support the health sector."