Illegal Meat Products From China Seized
June 30, 2020 11:52 pm | Posted in Business News | Share now TwitterFacebook
By Anita Roberts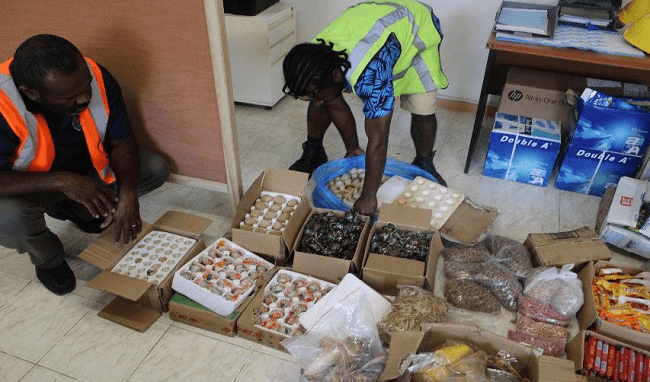 Customs and Biosecurity Officers have seized meat products that were illegally imported from China.
These items include 16.6kg of sausages, 15.3kg of packaged egg and fresh eggs and 9.9kg of other illegal meat products
They were seized from a PBO container belonging to a shop owned by a person of Chinese origin, in Port Vila.
Customs and Biosecurity Officers seized these illegal products from the container which contained commercial goods during a recent inspection.
Most of these meat products were not included in the shop owner's invoice, according to the Department of Biosecurity (DoB).
The container has been fumigated due to live ants that were found inside, said the DoB officers.
It took several weeks to clear the container after arriving last month.
DoB officers said the importer of the illegal meat products will be issued a fine of approximately Vt230,000 under the Biosecurity Act.
The DoB stressed that such behavior of not following laws can bring pests and diseases such as African Swine Fever and Bird Flu into Vanuatu.
Members of the general public are encouraged to notify the DoB immediately if they find any suspicious items in shops such as fresh eggs seen in these photos.