VASANOC Extraordinary AGM was a success
November 30, 2021 9:53 pm | Posted in Business News | Share now TwitterFacebook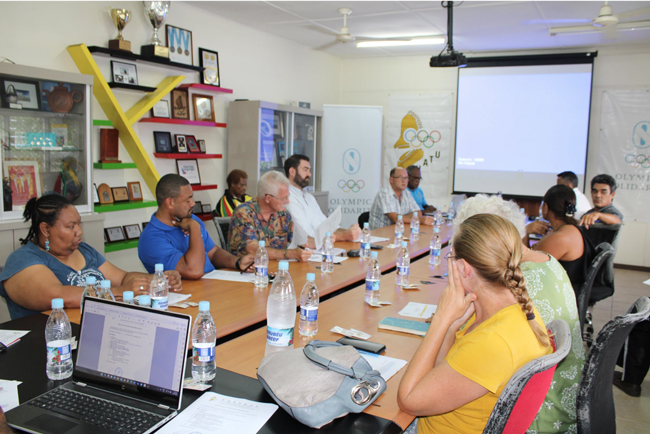 Vanuatu Association of Sports and National Olympic Committee(VASANOC) held its extraordinary Annual General Meeting on Thursday afternoon in VASANOC.
14 national federations were represented plus the Women in Sport Commission and board members.
Among the federations present were Cricket; Athletics; Netball; Volleyball; Rugby League; Golf; Football; Paralympic Committee; Rowing; Cycling; Archery; Tennis; Squash; Weightlifting; and Women in Sport Commission.
President Antoine Boudier opened the meeting by thanking those present and explaining the course of the meeting. The members then agreed on the approval of the voting rights and the quorum of the Federations.
Minutes of previous assemblies were reviewed and approved.
The treasurer, Mr Yannick Jacobé presented the budget for 2022. Indeed, with two big international events next year (the Pacific Mini Games in Saipan and the Commonwealth Games in Birmingham), it is important to have budgets balanced to ensure Team Vanuatu's participation in both events.
With the 2022 budget approved, members also validated the calendar including VASANOC events, international competitions to which VASANOC and its National Federations are invited, as well as education programs and school holidays. The Tokyo 2020 Team Report was reviewed which was led by Chef de Mission Williams Worworkon.
He highlighted the effort of our athletes who competed and proudly represented Vanuatu despite the lack of competition due to COVID.
He also thanked the team that has respected the anti-covid protocol and return to Vanuatu without being infected. A review of the latest news regarding the upcoming Games has been done.
For Saipan, the chef de mission Stéphanie Mahuk was not present due to professional obligations but the CEO of VASANOC, James Malau, took over, indicating that to date a delegation of 18 athletes and officials should be sent. He said a five-day quarantine is expected to be observed which will impact flight dates. The sports that will represent Vanuatu are beach volleyball, athletics, golf, tennis, and weightlifting.For Birmingham 2022, Chef de Mission Julia King gave some updates regarding the Queens Baton Relay.
The protocol will be different because of the current pandemic.
The stick will arrive on its own and the course will start from the airport.
She discussed the official ceremony, the planned route as well as the planned sporting events.
About Solomon Pacific Games 2023 it is hard at the moment to project because of the sensitive political situation. More info will follow.
Regarding Paris 2024, not much information except the fact that the qualification competition might start in March 2022. Also, the Boxing Federation was officially suspended from the AIBA.
The decision taken was to reclassified them and get the athletes under the authority of VASANOC.
Finally, everyone present said a few words in particular to David Lolo Sport Development Officer of VASANOC who will not work for the Committee from next year.