VAS rolls out Biogas project in 3 schools
May 17, 2022 12:45 am | Posted in Business News | Share now TwitterFacebook
By Jason Abel.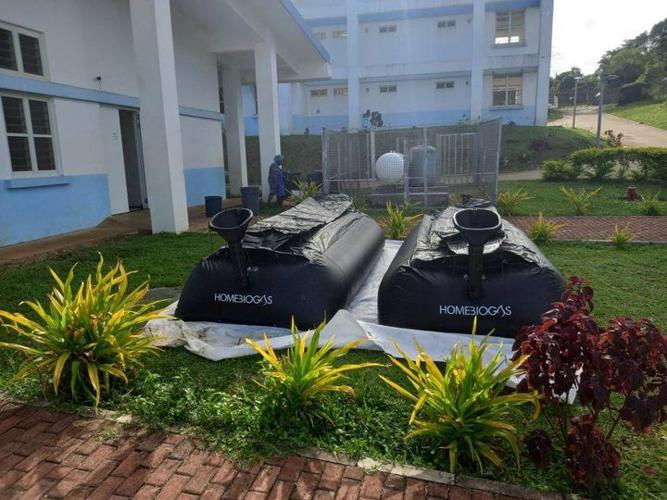 The Vanuatu Agricultural Supplies (VAS), with support from the Pacific Grow in Fiji and Home Biogas Israel is installing Biogas units in three schools on Efate.
Mr. Aaron Prendergast from VAS said the Pacific Energy Climate Change Services (PacECCS) pilot project will see systems installed at Malapoa College, Lycee LAB and Lycee Catholique de Montmartre, as well as two domestic locations.
The VAS recently installed two medium size Biogas units near Malapoa College's new dining hall.
According to Malapoa College Principal, Shem Simon, the system is on trial and he is hopeful that it will be in full operation in Term 2. Principal Simon mentioned that the system will drive down utilities expenses, specifically gas.
He added that it is an avenue to reengage with food waste in the kitchen to generate gas. Mr. Simon further acknowledged the project funding and VAS for installing the system.
Mr. Prendergast stated that for the school, the system fits perfectly with the new Farm2Table program with vegetable scraps from the kitchens providing the fuel for the biogas digesters.
He mentioned the system not only provides clean cooking gas, but it also reduces reliance on Liquefied Petroleum Gas (LPG), a fossil fuel which has increased in costs in recent months. Each system reduces carbon dioxide emissions by around six tones per unit annually.
Mr. Prendergast added that the large-scale rollout of Biogas units will give Vanuatu a firm basis to stand up in the international scene, when it comes to discussing measures to mitigate climate change impacts.
The VAS is happy to engage with recipients of the project and believes it is a way forward in the fight against climate change in the Pacific.
As the local distributor, it is partnering with PACECCS to implement their pilot program, where they will be measuring and quantifying gas output from the systems.
Mr. Prendergast stated the PACECCS and VAS partnership aims to scale up the pilot program based on the carbon revenue model, with financial benefit sharing to end users. Further details of how this program will expand with be forthcoming soon.
VAS hopes that the Vanuatu government will support the expansion of the Biogas initiative in Vanuatu with duty free status, similar to other renewable energy products such as solar panels.
VAS has had the biogas digesters from Home Biogas under trial and observation for over 12 months. Being satisfied with the performance, VAS officially launched the product in Vanuatu for retail this year.
The cost of the eight units donated by the Israel Ambassador to the Vanuatu government is approximately VT1.8 million.