Vanuatu's commitment to PACER Plus reaffirmed
May 6, 2022 4:32 am | Posted in Business News | Share now TwitterFacebook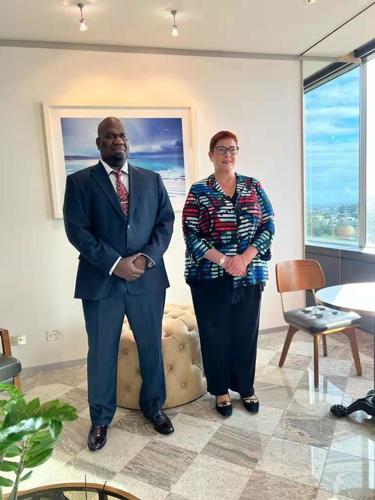 Labour mobility, security, and PACER Plus were some of the issues highlighted in the recent dialogue between Vanuatu's Foreign Minister and his Australian counterpart.
Minister of Foreign Affairs, International Cooperation and External Trade (MOFAICET), Marc Ati (MP) paid a courtesy call to Australia's caretaker Minister of Foreign Affairs, Minister for Women, Senator Marise Payne while on his private trip there.
During their meeting, Minister Ati highlighted the excellent bilateral relationship between Vanuatu and Australia. He reiterated that Vanuatu and Australia's relationship is characterised by strong people – to – people and business connections.
Minister Ati thanked Senator Payne for all the supports Australia provides over the years on development programs that contribute to Vanuatu's development into the future.
Adding to that, he expressed gratitude for Australia's supports on natural disasters such as cyclones, earthquakes, and flooding occurrences over the years.
Furthermore, Minister Ati echoed Vanuatu's appreciation on Australia's continuous supports to Pacific regional technical (SPC) and political organisations (PIFS) or CROP agencies, which played a crucial role in supporting and complementing government services to the people.
Minister Ati and Senator Marise Payne touched based on a number of ongoing programs between Vanuatu and Australia, such as Labour Mobility (Vanuatu is the biggest supplier of Labour workforce in Australia owning 42% or 6292 of 14687 total workers under the Pacific Australia Labour Mobility program as of April 2022), the recent kava commercial pilot which was launched on 1st of December 2021, Climate Change, Education, PACER Plus and security to name a few.
On labour mobility, Ati mentioned the crucial importance of the program, especially during COVID-19, whereby Ni – Vanuatu workers were able to maintain an income for their families back home, and by the same token Vanuatu was able to provide a much-needed labour workforce to Australia's agricultural and horticultural industry. Both ministers agreed that Labour Mobility is of great importance to both countries, and work is progressing well for the merger of both schemes – Seasonal Workers Program (SWP) and Pacific Labour Scheme (PLS) – to come under one single program, namely the Pacific Australia Labour Mobility (palmscheme.gov.au).
On climate change, Minister Ati reiterated that climate change remains the single greatest threat to the livelihoods, security and wellbeing of Ni Vanuatu and Pacific people. He went on to say that the commitment to progressing implementation of Nationally Determined Contributions (NDCs), under Paris Agreement is more than ever a pressing matter.
As Vanuatu is currently working to draft a United Nations General Assembly (UNGA) Resolution calling on Advisory Opinion from the International Court of Justice (ICJ) in 2023 on determining legal liability for climate change, the Minister sought Australia's understanding on Vanuatu's intention to move this resolution forward.
On security, Ati stated that Vanuatu continues to support regional approaches to security, particularly, as guided by the Boe Declaration, whilst mindful of the prerogative of nations to enter into own security undertakings with bilateral partners of their choosing. Consequently, Australia, like New Zealand and France continue to remain important regional security partners, for reasons of proximity, compatibility and owing to historical connections.
On PACER Plus, he reaffirmed Vanuatu Government's commitment to concluding it, leading to ratification of the instrument in the interest of greater regional economic integration, and relates to improve market access to both Vanuatu and Australian products.
Last but not least, the Minister made special mention on the recent signing of the Memorandum of Understanding (MoU) for the establishment of the permanent Pacific Fusion Centre in Port Vila (https://www.pacificfusioncentre.org/)
Minister Ati wished Senator Payne and the Australian Government well for the upcoming national elections, which will be held on May 21, 2022.