Vanuatu TOK TOK 2023: Rebuilding Tourism, Connecting Businesses, and Inspiring International Visitors
August 2, 2023 10:39 pm | Posted in Business News | Share now TwitterFacebook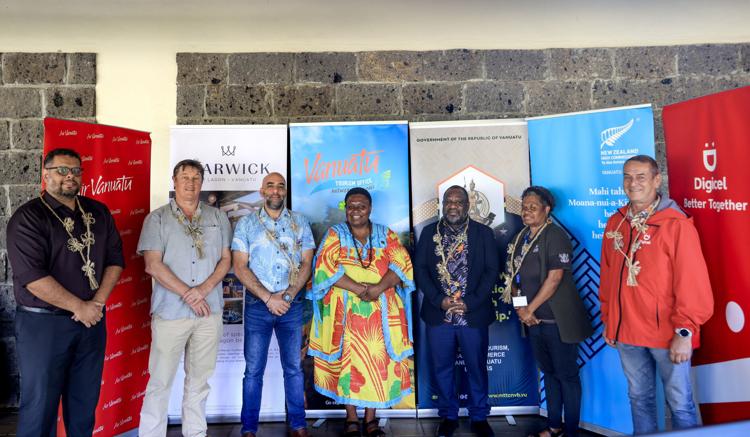 The Vanuatu Tourism Office (VTO) and the TOK TOK Vanuatu 2023 Committee recently announced their major sponsorships and partners for the TOK TOK Vanuatu 2023 event.
The sponsors and partners include the Government of Vanuatu, Air Vanuatu, Warwick Le Lagon Resort, Tourism Marketing Development Fund, Digicel Vanuatu, and the New Zealand Ministry of Foreign Affairs & Trade.
During a sponsorship reception at Le Lagon on July 28, the Director General (DG) of the Ministry of Trade, Tourism, Industry, and Cooperative, Mr. Jimmy Rantes, expressed gratitude to the sponsors and emphasized the opportunity to promote the Vanuatu Made Brand through the event.
He acknowledged the crucial role of TOK TOK Vanuatu in the recovery of the country's tourism industry and praised the support and commitment of all partners involved.
Air Vanuatu, the national airline, is a key partner for the event, providing tickets for approximately 50 international partners traveling to Vanuatu. The partnership between VTO and Air Vanuatu has strengthened over the years, leading to increased connectivity from Port Vila to other island destinations of Vanuatu.
The Quarter 2 Report of the Port Vila Airport Consumer Research revealed an 11% increase in visitors to Santo and an overall 8% increase in visits to other islands compared to Q1 of 2023, highlighting the importance of aviation connectivity in boosting tourism.
Adela Issachar Aru, Chief Executive Officer (CEO) of VTO, highlighted three key objectives of the event: rebuilding confidence in Vanuatu's tourism offerings among international visitors, re-establishing connections between Vanuatu tourism businesses and international partners, and encouraging international buyers to fall in love with Vanuatu again to promote further visits and tourism sales.
The TOK TOK organising committee also expressed gratitude to the Tourism Marketing Development Fund, Digicel Vanuatu, and Warwick Le Lagon for their significant support and contribution towards ensuring the success of the event and aiding in the recovery of the tourism industry.
TOK TOK Vanuatu is scheduled to take place from August 28 to September 4 at Warwick Le Lagon in Port Vila, with opportunities for international buyers to travel to Tanna and Santo for business-to-business engagements.