Vanuatu celebrates National Day at World Expo
March 2, 2022 11:09 pm | Posted in Business News | Share now TwitterFacebook
By Anita Roberts.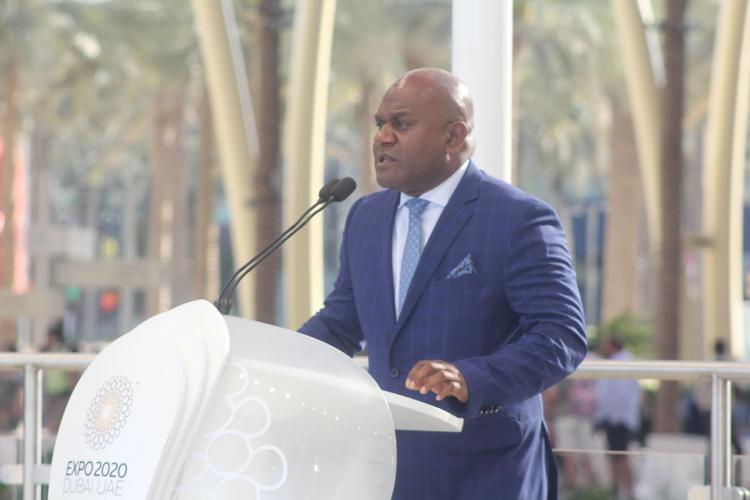 The national anthem of Vanuatu was sung as the flag was raised on the Stage of Nations at the World Expo in Dubai, the capital of the United Arab Emirates (UAE), to mark Vanuatu's National Day on Tuesday this week.
The flag of UAE was also raised followed by statements from the Director of External Trade, Joe Pakoa Lui, as Vanuatu's Special Envoy to UAE and Commissioner General to the Expo and the Executive Director from the Office of the Commissioner-General of Expo 2020 Dubai, Najeeb Mohammed Al-Ali.
Each of the 192 countries participating in the World Expo has a dedicated day of recognition with its own event program.
In his statement on behalf of the Vanuatu Government, Director of External Trade and Vanuatu's Commissioner General to the Expo, Pakoa congratulated the government of UAE and Emirates of Dubai for bringing the world together in the midst of this pandemicHe thanked the people and government of UAE and the Dubai Expo 2020 Committee for facilitating Vanuatu's participation at the historical world event.
"Vanuatu enjoys very strong ties with the UAE, the land of endless opportunities and vision, a land where impossible does not exist," he said.
"The Expo theme 'Connecting minds, creating the future' cannot be more fitting. The COVID-19 pandemic and the thematic theme are a stark reminder that we are stronger together when we work together.
"They remind us of how interconnected we are, and that the sustainable future we desire cannot be achieved unless we all cooperate, collaborate, mobilise, sustain, and collectively stimulate ideas and opportunities that bring to light the best of human ingenuity and technology. And this has remarkable resonated through the Dubai Expo2020.
"For those who do not know where Vanuatu is, it is a tropical island nested in the South Pacific Ocean. Many refer to it as the untouched paradise. We simply call it our home. Year after year, Vanuatu has kept its ranking as one of the happiest paces on earth. What is our secret? Well, we make the most out of simplicity and anyone from anywhere can arrive into Vanuatu and feel right at home! Happiness is a culture in Vanuatu. We are happy, we are happy, friendly, relaced people, always ready to help despite challenges.
"Vanuatu is ready to welcome investors from Dubai, AEA and the rest of the world. Business opportunities exist in tourism, agriculture, livestock, renewable energy, finance and the infrastructure sectors.
"Vanuatu pride itself on the ease with which businesses can be set up and conducted.
"We are one of the lowest corporate tax rates in the world, one of the very few places on earth where capital gains tax, personal income tax, withholding tax, death duties and exchange controls do not exist.
"Vanuatu pavilion's design is very traditional and exhibits Vanuatu's proud history, its connection to its cultural, lingual diversity and highlighting touristic and business opportunities that are available to our people and foreign stakeholders. Our pavilion also displays our warmth, talent, innovation, ecological beauty and our modesty.
"Vanuatu owns some of the best coffee, beef, chocolates, fruits and pristine beaches and environment the world has to offer.
"We pride ourselves in our niche products that is very organic and healthy of which Dubai is already enjoying."
The Head of the UAE Delegation and Executive Director of the Expo2020 and Mohammed Al-Ali, thanked Vanuatu for participating in the world event.
"As we reflect on this exceptional time and look back on our achievements, the obstacles overcome and lessons learnt, we are proud of our journey," he said.
"We are also eagerly planning for the next 50 years of our nations story. I firmly believe that with strong will and clear vision, nothing is impossible.
"Through its participation Vanuatu's positions itself has a land of numerous and unique prospects that visitors are encourage to explore.
"At Expo2020 Dubai Vanuatu's pavilion invites us to experience an incredible breathtaking landscape filled with adventure and showcase investment opportunities of a country that is young and growing with numerous prospects in agriculture and tourism, for the chance of contributing to its national vision aim at maximizing opportunities for shared prosperity.
"In this regard I would like to express our appreciation to Vanuatu's memorable participation in this Expo.
"We are proud to share prospering relations with Vanuatu and shared the commitment of tackling climate change and moving closer towards sustainable development.
"We also hope to build on the existing partnerships between our two nations, through expanding our trade relationships and exploring new opportunities for cooperation in various fields of mutual interests, such as tourism, agriculture and renewable energy."