Social Media for E-Business professional development scholarship opens to Vanuatu
March 2, 2022 11:04 pm | Posted in Business News | Share now TwitterFacebook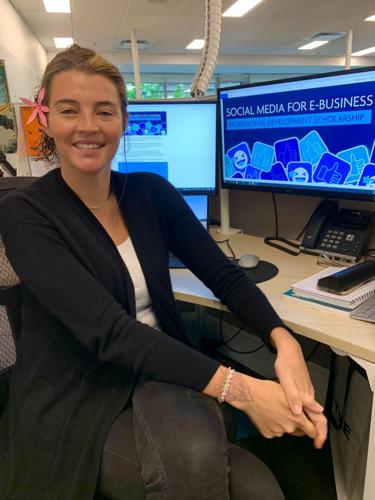 Pacific Trade Invest (PTI) Australia has opened applications for tailored professional development scholarship program, Social Media for e-Business, for the first time to business operators in Vanuatu.
As the first of its kind in the region, the program seeks to equip participants with the in-depth social media marketing skills required to support business growth. Applications for the 2022 program close on Sunday 13 March.
The 16-week program was developed after Pacific Business Monitor research and feedback received from businesses, indicated a growing regionwide interest in developing ecommerce capabilities, accessing new markets and improving technology know-how.
With an initial focus on Small Island States, the bespoke Pacific-focused course is now open to business operators from Fiji, French Polynesia, New Caledonia and Vanuatu. Participation in the program is free, with each place valued at A$5,500.
The start of the program is aptly timed, with the release of the recent PTI Pacific Business Monitor Report, which found that by the end of 2021, nearly one-third of Pacific businesses were seeking to improve their ecommerce capabilities to support their business, and nearly one-quarter were calling for better access to technological upskilling and training.
Matisse Walkden-Brown, PTI Australia's Communications Manager, said that with COVID-19 acting as a technological catalyst for businesses and consumers alike, the need to maintain a strong online presence and digital connection has been highlighted.
"With more than half the world's population using social media, the technology has quickly become a cost-effective and vital business communication tool.," she said.
"Through our research and discussions with businesses, we understand that there is a lack of readily available support for business professionals in the Pacific to learn how to effectively use social media as a powerful marketing tool.
"Social media has also become more and more important for direct sales. Ecommerce has been central to business frameworks for years and as internet uptake rapidly increases worldwide, the number of digital consumers continues to climb year on year. Of course, in this new world impacted by COVID-19, the need to be digitally connected has been even further highlighted, and PTI Australia remains steadfast in its dedication to equip Pacific businesses with the best tools and skills to join and thrive in the ecommerce trade."
The unique program is tailored to Pacific businesses and covers social media marketing foundations, free social media growth strategies, and blueprints for profitable social media advertising.
Last year saw 65 business professionals selected for the program from across the Pacific, with participants hailing from a range of sectors, including media, tourism, and telecommunications. The cohort completed the bespoke Pacific-focused e-learning course in three learning streams through a mix of online workshops, pre-recorded video modules and an online group discussion space.
Leilani N Reklai, publisher and editor of The Island Times newspaper in Palau, said the development program is benefiting her business tremendously.
"In the month since I started following the recommendations and posting ads linking my Facebook page with my Instagram, traffic to my website has grown by about 70%," she said.
"There are still a few challenges that, once resolved, will further increase traffic to my business. I own a newspaper, which is also available online. With the world moving more towards online news, our days as print media are numbered. It is critical that we transition to online media and learn how to maximise the tools available in order to do that. This training is what I have been looking for and it has exceeded my expectations. Thank you so much, PTI Australia, for giving me the opportunity through this scholarship! It's a lifesaver!"
Applications for PTI Australia's Social Media for e-Business professional development scholarship program are now open to business operators in Vanuatu. Participation in the program is free, with each place valued at A$5,500. Applications will close on Sunday, 13th of March 2022.