Transparency Vanuatu Returns to Vila suburbs
February 20, 2022 11:31 pm | Posted in Business News | Share now TwitterFacebook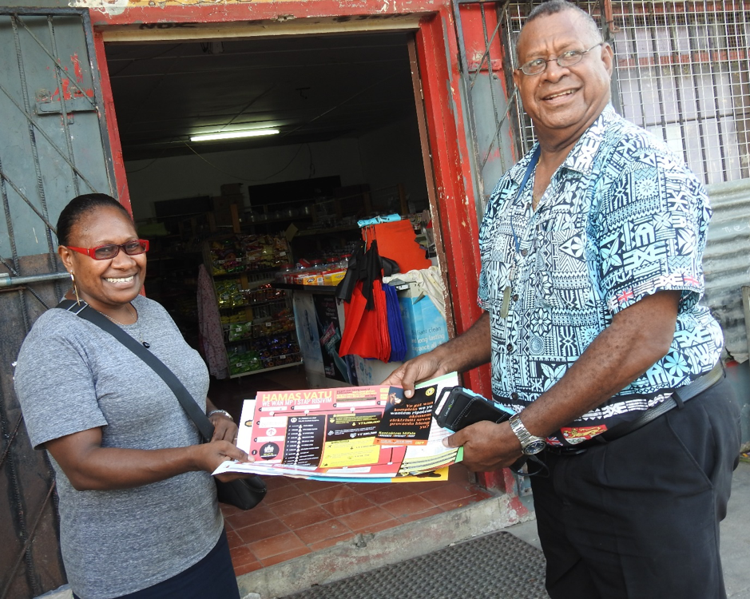 The Community Advocacy Group (CAG) at the TIV Office is going around Vila and its suburbs doing awareness talks and giving out printed materials on how you can access help if you are not happy about your electricity bills or water bills. Our Consumer Advocacy Group is ready to help all complainants about water and electricity bills. If you need help, please call 25715 and ask for help.
Information is important and powerful. Every citizen of Vanuatu has the right to access information from any government office or department.
TIV team is letting people know that if they need information from any Government Office or Department, they can call the RTI Office or call 25715 and the TIV Office will assist them to access the RTI Office.
This week TIV has covered 21 Jump Street at Tagabe, Tokopeatau at Switi Park, Ohlen 73-75 and Anabrou covering Seven Star, Emile Nakamal, Simbolo and Melcoffee.
Port Vila suburbs residents are advised that as of February 21 Monday 4pm, TIV Team will be focusing on Freshwater 1, Freshwater Police Post, Freshwater Park and Freshwater 4.
February 22 from 4pm: Freshwater 5, Beverly Hill Stages 1 and 2, Beverly Hill Market and Tassiriki.
February 23 at 4pm: Freshwater Central at Ronny Nakamal, Seaside Paama and Seaside Tongoa.
February 24 at Central Ward from 4.30pm: Mini Market Store, D'York Street Bus Stop and Sea Front Park.
February 25 Southern Ward from 4pm: Number 2 Wallis, Afec, Napatira and Tokyo.
As far as COVID-19 is concerned, there is only one plan and one authority and that is the Ministry of Health plan and advice.
Transparency International Vanuatu Chief Executive Officer, Dr. Willie Tokon says it is most important to listen to all advice given by Health Authorities including the current call for all able members of the population to get injected with the relevant vaccine.
"Wash your hands before eating; after coming out of toilet; eat local healthy foods; cough into your elbows; do not touch your mouth, nose & eyes; and see your local health officer if you do not feel well. Above all, get your vaccine shot," says Dr. Willie Tokon.
The CEO calls on the public to listen to Advice from the Ministry of Health and World Health Organization and not listen to people with false or misleading information.
The latest medical report from the Solomon Islands says that at least 50 deaths and over 5,000 cases of Omicron have been confirmed in the last six weeks and the statistics are climbing.
A doctor from Papua New Guinea who is reportedly married to a Solomon Islander was reported to have crossed over from Bougainville through the Shortland Islands with his family into the Solomons. They introduced the Omicron virus to the Solomons which is currently running wild there.
Dr. Tokon who is a well-respected medical doctor by trade, made the remarks at 21 Jump Street at Tagabe during TIV's "Afternoon Storian Raon Long Port Vila" beginning Tuesday this week.
To elaborate on the importance of keeping safe from the threats of COVID and Omicron Viruses, the CEO calls on the public to live healthy by regular hand washing, eating healthy foods and keeping fit through exercise.
TIV wishes to make it clear to its readers that it is mandated to advocate to the population of the importance of transparency, accountability, responsibility, truth and honesty on all critical issues of interests.
TIV has a duty to inform the public on matters relating to the reduction of corruption and all other forms of crime in the country.
The latest Report by Global Corruption Barometer has rated the most corrupt institutions in ten Pacific countries including Vanuatu as the Offices of the Head of State and Prime Minister, followed by Parliamentarians, Police and Public Servants. This report is the result of real people's experiences.
It is not as if we have ran out of things to say but our organisation must keep repeating what it is already preaching to help all decision makers to make the right decisions for their own benefit as well as other people. Dr. Tokon says,
"The setting up of the Anti-Corruption Authority by the Government and the call by the Chairman of the Parliamentary Public Accounts Committee for all Ministries to submit their financial reports are advancements in the right direction.
For these, Transparency Vanuatu congratulates the Government and the Chairman of the Parliamentary Accounts Committee, MP Seremaiah".
Long time, TIV Anti-Corruption and Community Advocate Douglas Tamara keeps highlighting the importance for leaders all the way down to the ordinary person, to do the right thing to access what is right.