Tourism stops but better days on the horizon for Aneityum
August 20, 2020 12:20 am | Posted in Business News | Share now TwitterFacebook
By Royson Willie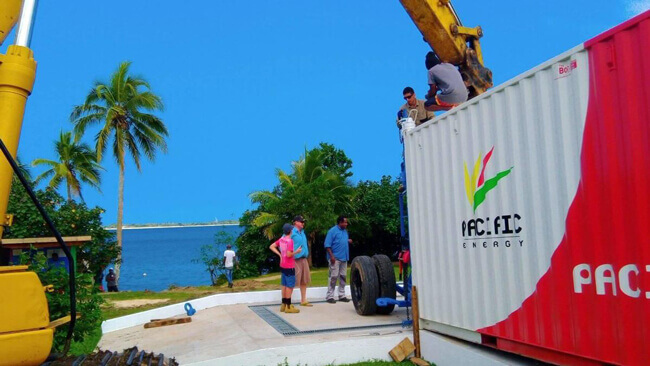 The island of Aneityum in the southern part of Vanuatu no longer receives tourists from cruise ships due to the COVID-19 pandemic currently affecting the world, but despite what seems to be a bleak future, new horizons are opening for the people on the island.
After so much focus on tourism on one of Vanuatu's jewel in the tourism sector, Mystery Island, the people are reportedly now focusing on speeding up the process of developing mainland of Aneityum.
So far the people, through leadership from community elders combined with youths, have built a new small concrete bridge for the safe crossing over a small stream for the children accessing Anelcauhat Primary School, which is also used by public at large to access health and banking services in the area.
The island's main centre is also going through a planned phase of development for the relocation of Teruja Secondary School from its current site to higher grounds due to effects of climate change.
Equipment for building the new school infrastructure at the new site, have reportedly already reached the island ready for the construction phase.
The island is also expected to get proper new roads, a first for the island in 40 years since Independence.
The last roads left on the island were remnants of pre-1980 harvesting of the Kauri trees on the island by a logging company.
A contractor is currently on the island with machines, excavating the land to access materials to develop existing and new roads as well as build the new buildings at the new site of the secondary school.
The bilingual Teruja Secondary School is receiving support from the French Government, national government and the people of Aneityum.
And recently, another first for the island took place that saw the establishment of a fuel station by fuel importer, Pacific Petroleum, on the island.
This fuel station is similar to those being used on Tanna island.
The main mode of transportation on the island is by small boats that depend mainly on imported fuel that is shipped there from Port Vila.
Fuel supply on the island has been unreliable in the past not only because of the lack of shipping services, but also sometimes due to fuel drums shipped to the island being 'lost' on its way past islands such as Tanna, to Aneityum.
A steady fuel supply would mean no disruption to many services on the island.
Reports from Aneityum say, while tourism has come to a standstill, not only has focus turned to concrete development on the land but also more people are getting involved in agriculture daily to make more gardens to sustain their living.