Emua boasts 'threein- one' development
August 25, 2020 12:37 am | Posted in Business News | Share now TwitterFacebook
By Len Garae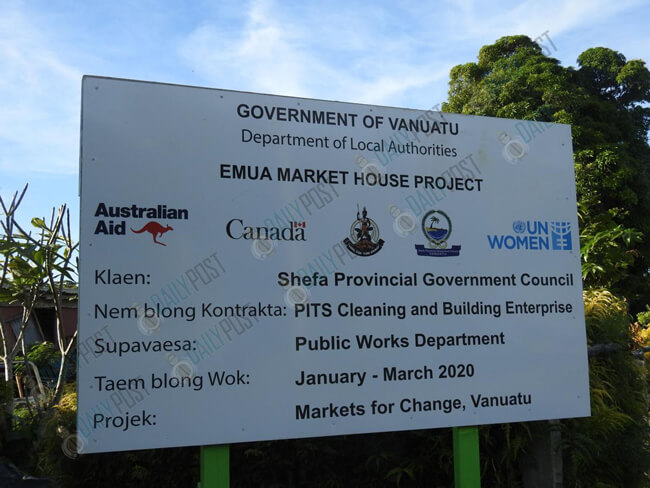 The Emua Market is a UN Women Project under its Market for Change Programme which falls under its National Project Coordinator and Secretary General (SG) of SHEFA Province, Morris Kaloran, since 2014.
According to the Project Coordinator, Emua Village is targeted by donor partners because of its location with its Emua Cooperative Society which also has a National Bank of Vanuatu Branch located in the same building.
"The attraction by development partners to the site on which the cooperative is built is that it has a land title", says Coordinator Kaloran.
"It is for the same reason that the Market House Project is located on the same plot".
He confirms UN Women's assistance towards the project while Australian Aid remains the majority contributor to the project, while Canada, Vanuatu Government and Shefa Provincial Government also contributed to the project.
While the building now looks ready to launch, Kaloran says Public Works will need to certify its completion before the building is officially launched most likely before the end of the year.
SG Kaloran speaks highly of Emua Village as a perfect settlement for potential replication throughout the country. Its advantage is that Emua Village Cooperative is built on land that has a land title, which enabled NBV to open its Branch there and now Emua Market is built on the same plot because development partners are keen to fund projects on land that has an existing title.
While the village has its "three-in-one" commercial development at the entrance, Kaloran is confident that the Director of the Department of Cooperatives, Ridley Joseph, and NBV Rural Banking would see eye-to-eye with him on the trend of development by building cooperatives and NBV Branches next to the new market houses. "This is the best approach for market vendors to open their bank accounts where they can deposit or withdraw their money on any working day", he says.
Head of Cooperatives Joseph has welcomed the idea and says as long as the land where they build is registered then he would be interested to talk to the Coordinator.
SG Kaloran says his Administration is in the process of connecting water, electricity and Solar Panel to the Market House to reduce costs, while the Market is going to be managed by the Mamas. We apologise and retract an earlier article which announced a premature opening of the project. The information was supplied to the writer by the women who were excited about their new Market House.