DARD Assists Communities Affected by COVID-19 Situation
August 19, 2020 11:41 pm | Posted in Business News | Share now TwitterFacebook
AGRICULTURE NEWS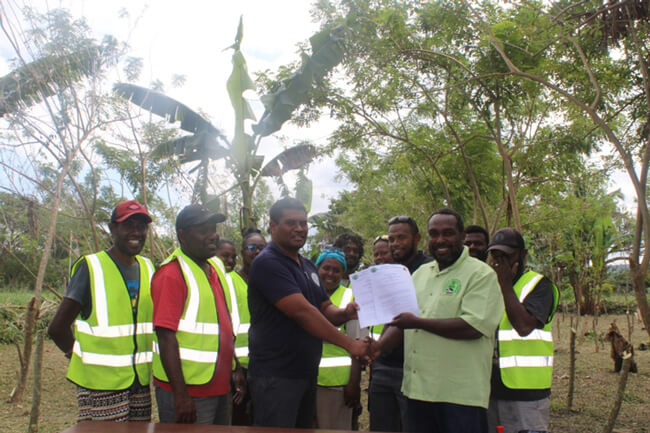 The Ministry of Agriculture, Livestock, Forestry, Fisheries and Biosecurity (MALFFB) through the Department of Agriculture and Rural Development (DARD) has recently signed a Short Term Service Agreement with the Tanombere Association.
Tanombere Association is a family association from Tongoa island that has registered with the Vanuatu Financial Services Commission.
The main tasks under this agreement include pruning of shade trees and weeding of DARD's banana and kava multiplication plots and planting of island cabbage on the multiplication plots of Tagabe Agriculture farm.
The multiplication plot was established purposely for the collection, maintain and generate of planting materials of DARD selected crops.
The Director for DARD, Antoine Ravo, stated, "DARD intends to provide support to communities affected by the COVID-19 situation and especially those who seek financial support.
"It would like to demonstrate its commitment to associations like Tanombere.
"With the extended COVID-19 State of Emergency, each government department must reflect on how they can better assist affected communities either directly or indirectly." Mr Ravo added, "Your engagement with the Agriculture Department is like a learning opportunity for your young people.
"I would like to encourage you to work and at the same time observe what we are doing at the farm.
"The DARD is looking forward to engage the association in other upcoming activities in the future.
"There are a lot of works to be done and DARD alone cannot implement all activities. That is why we need to engage private sector and associations to assist us in carrying out some of our activities.
"The DARD has set up such arrangement in the past with farmers, individuals who need financial assistance and RSE workers who usually work at the farm before departure.
"Working at the farm is a great experience for young people.
"I acknowledge all the work you have done at the farm," Director Ravo concluded.
The chairperson of Tanombere Association, Lloyd Fikiasi, said "We are in a situation where most families are apart but through our family connection and such engagement with DARD, we can support our families given the difficult situations they are currently facing.
"I acknowledge the negotiation, commitment and assistance provided by the Department of Agriculture.
"The association is more than happy to get involve in the programs that aims to put progress to the development of the Ministry of Agriculture, Livestock, Forestry, Fisheries and Biosecurity."