Tourism Forum focuses on response and recovery plan
October 29, 2020 10:53 pm | Posted in Business News | Share now TwitterFacebook
By Glenda Willie and Kizzy Kalsakau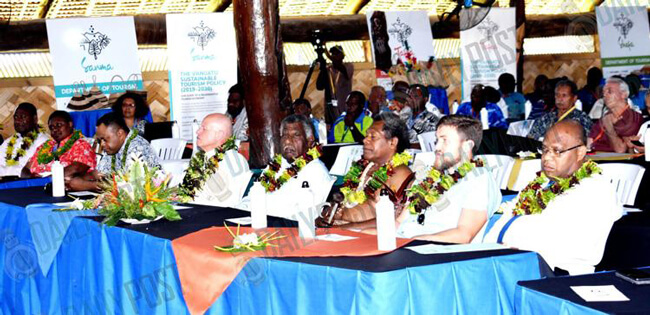 Dialogue during day one of the four-day Tourism Forum focused on the tourism roadmap which targeted the Vanuatu Tourism Crisis Response Recovery Plan amidst the downturn of COVID-19 pandemic.
The tourism industry, which one cannot deny, has been greatly affected when borders closed following the COVID-19 pandemic.
"Niufala Rod Blo Tourism" is the theme of this year's Tourism Forum which aims at improving tourism and managing this industry going forward and stronger, as explained by Director of Tourism Department, Jerry Spooner.
The forum will also discuss way forward in support of the ongoing efforts that has been put into this sector as they prepare themselves to welcome tourists once the borders are opened.
Spooner acknowledged ongoing support from the New Zealand Government and tourism stakeholders including the private sector.
The Vanuatu Tourism Crisis Response Recovery Plan is summed up into five main pillars which presentations and discussions are centered around during the forum. New Zealand High Commissioner Johnathan Schwass highlighted the five key pillars in his speech, which includes; safeguarding the health of citizens and visitors; planning for moving people internationally and nationally in a COVID environment; ensuring tourism businesses are financially viable and ready to launch their products again when the time is right; helping to build international demand for Vanuatu tourism, including through messaging that Vanuatu wants to be part of the proposed New Zealand and Australia tourism bubble and finally ensuring good communications throughout Vanuatu about the changes taking place within the sector.
"These five pillars will help shape New Zealand's engagement in Vanuatu tourism over the next few years," he affirmed. New Zealand has been Vanuatu's core partner in the tourism development for five past years.
"We have been proud to have supported the stunning marketing and brand development work that has been done by the Vanuatu Tourism Office (VTO) and to have been able to help build the policy capacity of the Department of Tourism.
"We're now nearing the end of our first phase of tourism assistance and we intend that support in the future."
Director General of Tourism, Roy Mickey Joy urged for a dynamic deliberation during the four-day event.