Brunet Enterprise to construct Pentecost Roads
October 29, 2020 10:57 pm | Posted in Business News | Share now TwitterFacebook
By Terence Malapa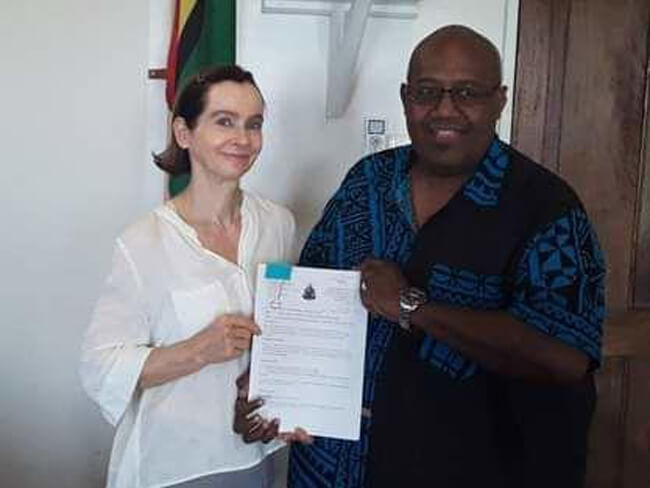 The Minister of Infrastructure and Public Utilities, Jay Ngwele has signed a contract with the owner of Pierre Brunet Entreprise Generale, Mrs. Christiane Brunet for the Improvement of North and Central Pentecost roads.
The signing of the VT194,499,730 Improvement Road contract was witnessed by Pierre Henry Brunet (General Manager), Daniel Faivre (First Political Advisor, MIPU), Jonah Mesao (Compliance Officer, MIPU) and Lawrie Carlson (Project Manager VIRIP) on October 19 2020.
The Vanuatu Infrastructure Reconstruction and Improvement Project (VIRIP) is a World Bank funded project and this contract was tendered under World Bank procurement rules.
The contract was competed for by a number of local contractors with Pierre Brunet Entreprise Generale being the successful contractor.
Minister Ngwele acknowledged the large amount of work being undertaken by VIRIP at the moment, indicating that this was necessary transport infrastructure for the future and an immediate cash injection into the economy. He encouraged the contractor to complete the works as fast as possible for the benefit of the communities and the country.
The contract will involve the construction of road sections along the West coast of Pentecost: 1,100m Lesa Hill macro-fibre reinforced concrete pavement, 780m PENAMA Provincial Office road using mixed macro-fibre reinforced concrete and base course pavement.
Works have been planned and programmed by the Public Works Department in accordance with their systems and involved significant consultation with provincial authorities and communities.
All works will be undertaken as per Public Works Department Standard Specifications and Designs.
It is anticipated by December 2021 there will be a much improved road on the North and Central Pentecost Road sections, serving as an important link for social and economic activities around the area.
This improvement will fix a long outstanding bottleneck along this important route.