Port Vila Council of Chiefs thankful for Carpenter Motors Vanuatu's help for Independence Celebrations
August 7, 2020 3:35 am | Posted in Business News | Share now TwitterFacebook
Charles Hakwa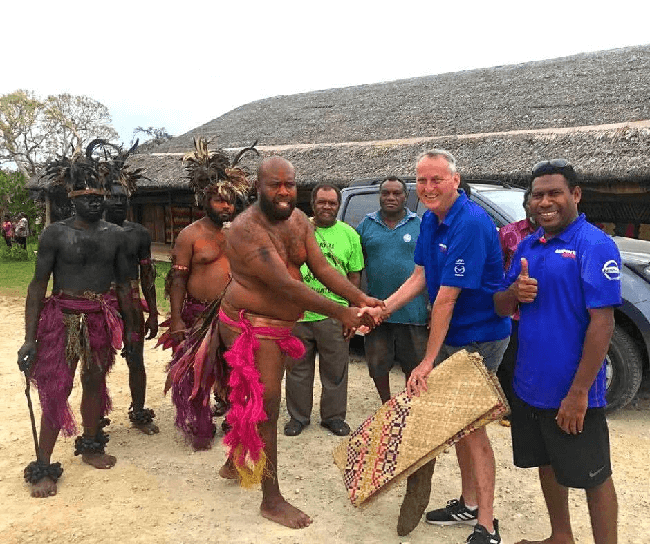 Carpenter Motors Vanuatu provided much needed practical support to the Port Vila Council of Chiefs, the Malvatumauri Council of Chiefs and the Vanuatu Kaljarol Senta (VKS) with the loan of an Isuzu truck for their 40th Independence Anniversary community celebrations.
"On behalf of all chiefs around Port Vila and Vanuatu we would like to say a big thank you to Carpenter Motors for their help with our celebrations," said Chief Vinbel Ahapath, Chairman of the Port Vila Council of Chiefs.
"Carpenter Motors is very proud to have loaned an Isuzu QKR truck to the Port Vila Council of Chiefs and VKS to help them with their important community work all over Efate for Vanuatu's 40 years Independence Anniversary," said Mr. John Clift, Carpenter Motors Vanuatu Dealer Principal.
"We cannot express our appreciation enough towards Carpenter Motors for helping us at a time like this with practical support," said Chief Alicta Vuti Kwirinavanua, Vice-Chairman of the Port Vila Council of Chief and Malvatumauri member.
"We do not have the full capacity to carry out preparations for the Anniversary event programs on our own. We used the Carpenter Motors vehicle all over Efate to transport cultural dancers, move people to custom ceremonies, and find and carry food in the rural areas," said Chief Alicta Vuti Kwirinavanua.
"As Port Vila's leading automotive dealer, Carpenter Motors will always do our best to help the Port Vila Council of Chiefs. We believe that Vanuatu's Chiefs play a very important role during the country's fight for independence and still do after 40 years by maintaining peace and order, and giving the people direction," said Mr. Clift.
"This is not the first time Carpenter Motors has extended a hand to help us. I want other business houses in Port Vila to be just like Carpenter Motors and give practical help when it's needed by our Chiefs for our community work," added Chief Ahapath.
Vanuatu celebrated 40 years of independence with seven days of preparations and activities until Independence Day on Thursday 30 July. This year's celebration is very important to all Chiefs around Vanuatu, as it marks a milestone of peaceful leadership and cooperation.