VNPF wants performance of students studying under MESS monitored
August 7, 2020 3:44 am | Posted in Business News | Share now TwitterFacebook
By Anita Roberts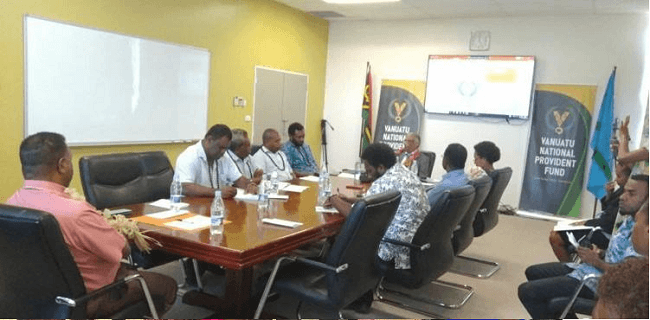 The Vanuatu National Provident Fund (VNPF) has requested the Ministry of Education and Training (MoET) to assist in making sure that the academic performances of students sponsored under the Members Education Support Scheme (MESS) are monitored.
The fund is spending a large sum of money on these students thus, it's important to evaluate the student's academic progress against the funds to ensure they (funds) are not wasted, the VNPF General Manager (GM), Parmod Achary, told a delegation from the MoET during a recent briefing.
He said VNPF is thinking of stationing an officer in Fiji where majority of the students are to do the job and also look into addressing accommodation.
So far, VNPF has spent over VT96 million on tuition fee, accommodation and transportation for over 300 students studying in Vanuatu and abroad under MESS in semester one of this year.
A total of over VT47million was paid for 230 students at the University of the South Pacific (USP) Laucala Campus, over VT12 million paid for 31 students at the Fiji National University, over VT10 million for five students at the University of Fiji, over Vt1million for six students at Fulton College, over Vt10million for 31 students at Alafua Campus (Samoa) and over VT500, 000 for two students at PAU and Holy Trinity in Papua New Guinea (PNG).
VNPF has paid over VT11 million in tuition for 88 students at Emalus Campus, Pacific Vocational Training Centre, Edward Institute of Technology and the Vanuatu National University in Vanuatu.
Payments are still need to be made to universities in Solomon Islands and New Caledonia.
First Private Secretary for the Minister of Education, Lionel Kaluat, on behalf of the minister stressed the need for recruiting from areas where skills are in demand such as health and also to consider students from local institutions such as Maritime College and Agriculture College.
He said the scheme should consider boosting recruitment for institutions in Vanuatu to ensure that funds are spent locally instead of abroad.
VNPF GM said the scheme cannot fund students in local institutions such as Maritime College and Agriculture College unless their courses are recognized regionally and internationally.
VNPF and the MoET signed the agreement to facilitate MESS last year.
VNPF, through the Members Financial Services Limited (MFSL) is implementing the scheme.