P&O Cruises Australia welcomes return of Ni-Vanuatu crew
April 23, 2022 9:22 pm | Posted in Business News | Share now TwitterFacebook
By Adele Willie.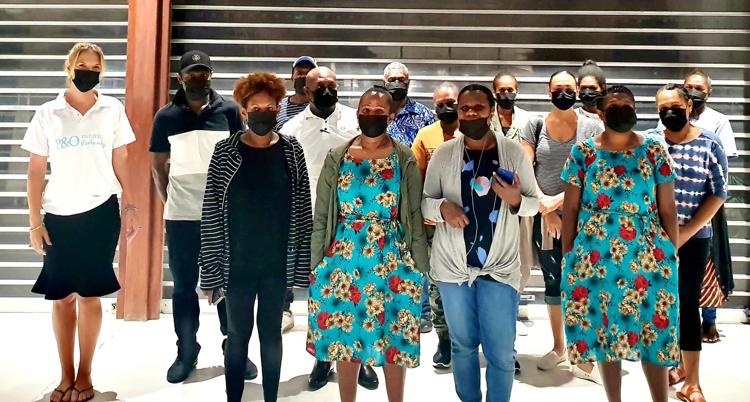 P&O Cruises Australia is very proud and excited to welcome back the first Ni-Vanuatu crew members after two years.
The group of 14 left Port Vila yesterday morning to join the P&O Cruises flagship, Pacific Explorer, which will begin carrying guests from May 31, 2022.
President of P&O Cruises Australia, Marguerite Fitzgerald, said welcoming their first Ni-Vanuatu crew back on board their ships is an exciting moment and a demonstration of the respect they have for their Vanuatu team mates.
P&O Cruises has always valued its strong relationship with Vanuatu and it is the only cruise line in the world to employ Ni-Vanuatu crew.
"We have been on an operational pause for more than two years and these crew will play a major role in helping us to get back into operation," Global Talent Partner, Carissa Jacobe from South Sea Services Ltd – Vanuatu said.
"P&O Cruises is hopeful of being able to cruise to Vanuatu this year and of a decision from the Vanuatu Government and its officials to be able to do so."
Ms Jacobe added it's an amazing feeling to see that the delighted crew going back to work on the cruise ships.
There have been many challenges, and she thanks everyone who helped her get their crew back to sea.
She is looking forward to the day when a cruise ship enters Vanuatu waters.
According to Ms Jacobe, working at sea is more than just a job. It's a way of life, and an opportunity to discover new avenues, visit different places and explore new worlds.
It is a chance to make friends and gain experiences that will stay with you for a lifetime. It is hard work, but very rewarding.
She is also appealing to all interested citizens who are interested to apply for a career at sea to email South Sea Services at [email protected]