'Pikinini Kona' – a brand new tourism product amidst pandemic
March 10, 2022 11:11 pm | Posted in Business News | Share now TwitterFacebook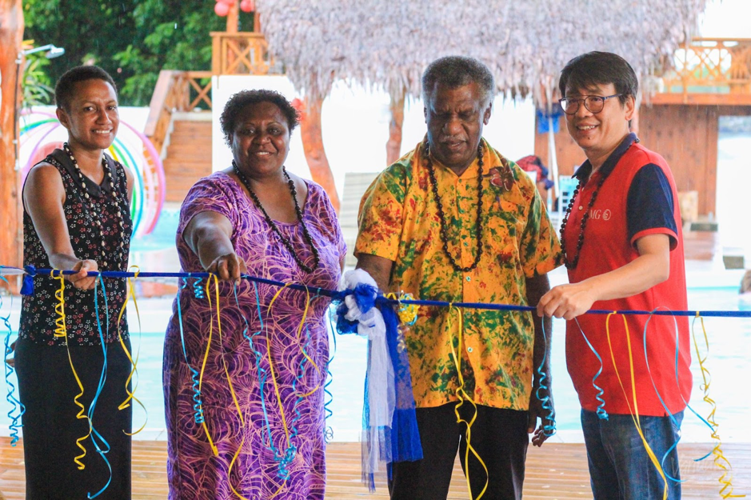 'Pikinini Kona' – a novel children's swimming pool area — is the most recent brand new tourism product in Vanuatu's capital.
It was officially launched on Friday, 4th of March 2022, by MG Cocomo Resort. Guests in attendance included the Minister of Tourism and Trades James Bule, the Acting Director of the Department of Tourism — Mrs. Geraldine Tari, the Vanuatu Tourism Office (VTO) Chief Executive Officer (CEO), Mrs. Adela Issachar Aru, the media and industry representatives and partners.
In her opening remarks, VTO CEO, Adela Issachar Aru congratulated the MG Cocomo Resort team on this venture, saying children form a big part of why people and families travel, try new things and get new experiences.
She said one of the most significant reasons for families to travel is "because it's exciting, and we are in a constant desire to explore new things".
"Travel or taking kids out to somewhere new and different, can open their world to new learning experiences, food experiences, cultures, knowledge, people and other moments that aren't always available within a classroom," she said.
Minister Bule said the opening of the new Pikinini Kona is an investment that is not only appreciated and welcomed, it also goes to show that tourism is very much resilient and alive for Vanuatu's local economy.
Minister Bule added that after almost two years since Vanuatu's borders have closed due to the pandemic, the launch of another brand new tourism product brings hope.
"The fact that we are doing this while the borders are still closed, goes to show that we as Government are hopeful, our investors are hopeful, and our people are happy that we are still able to provide services for our own enjoyment," he said.
According to Minister Bule, it's important to invest now while the borders are closed, as research shows that visitors, especially in Vanuatu's core-markets, are waiting to return as soon as Vanuatu's borders reopen.
"Our visitors have never stopped reaching out to us, asking when will Vanuatu open its borders, and we expect that they will come back in floods when we are able to safely do so," he said.
According to the Minister, preparedness and coordination will be the key drivers to our tourism recovery success and is part of the actions of the Tourism Crises Response and Recovery Plans (TCCRP) endorsed by the Government in 2020 to chart new pathways for tourism in Vanuatu.
"I commend all tourism operators for your resilience but also acknowledge your struggles as we navigate through this crisis — It is not easy. On behalf of the Government, I applaud your achievements, new investments and successes," he said.
On behalf of MG Group Vanuatu Project and MG Cocomo Resort, GM, Mr. Danny Seah, announced that the MG Cocomo would continue their full support towards further development of the domestic tourism market which they believe is working.
The MG Vanuatu Project Chief Representative indicated that with assistance from the MG Group in Hong Kong, an agreement with Interval International in Singapore last month has approved MG Cocomo to be one of their member resorts.
According to Mr. Seah, Interval International, a subsidiary of Marriott Group, is one of the prestigious vacation exchange programs for international holidaymakers. Interval International has more than 2 million members worldwide in more than 80 countries. Every year, the members are allocated a choice of resorts to spend their holidays.
"Therefore, by joining this exchange program, MG Cocomo is one of the listed resorts in the program for these holidaymakers," he said.
"By being one of the member resorts, we are further promoting Vanuatu and the MG Cocomo Resort to international holidaymakers. We will open up more new markets to support our tourism industry."