Local Cocoa Producers encourage farming as a business
March 5, 2022 10:58 pm | Posted in Business News | Share now TwitterFacebook
By Jason Abel.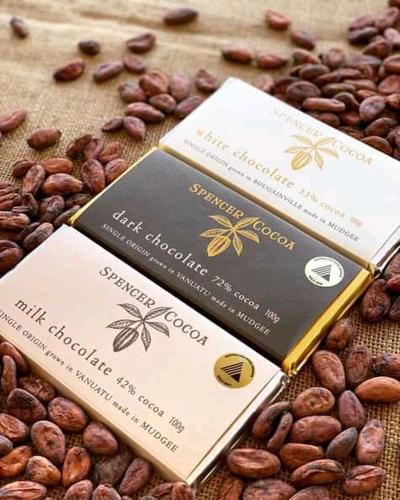 A well-known cocoa exporter company in the country — LRT Cocoa Producers Business Premium — is encouraging everyone to engage in farming as a business.
LRT is a Ni-Vanuatu business owned by Mr. Lui Ross Tunmal, and has been exporting dry cocoa beans to Spencer Cocoa company. The premium chocolate maker is based in Mudgee, NSW, Australia, and produces single origin chocolate from cocoa beans sourced in Vanuatu.
Mr. Benson Ezra, LRT's Administrator and Manager stated that with COVID-19 pandemic disturbing economy trends, people should embrace the multi-task approach as a means of support for family income.
He added that with tourism as a main source of revenue for the government in the past years, COVID-19 has paralysed international tourism, which puts velocity into government revenue. However, Mr. Ezra commented that with international tourism a challenge over the past months, people should be more involved within the agriculture sector.
LRT is recognized in Australia for producing excellent cocoa quality. Chocolate made from this cocoa at the Spencer Cocoa company are its 72% dark chocolate and 42% milk chocolate which have received various awards at the Australian Fine Foods Awards in 2016, 2017 and 2019 (Gold, Silver and Bronze) and also awards from the Sydney Royal Show in 2017 and 2019 (Silver and Bronze).
Mr. Ezra said that with self-discipline, determination and commitment, youths or anyone living in town or villages, can be part of such achievements. He said there are many avenues suitable in meeting farming businesses.
Ezra added that believing in oneself and avoiding gossip and doubts is the way forward. Despite challenges, especially when exporting, and costly exercises, he believes all challenges comes as an opportunity to boost moral support in one's journey.
LRT Export also plans on setting up a chocolate factory in Malekula, as the business expands.
LRT Cocoa Producers Business Premium was established in 2015. The company has 13 members and is a registered private local cocoa exporter to the Spencer Cocoa in Australia. It also supplies cocoa beans to the Gaston chocolate factory.