Pierre Brunet Entreprise Generale secures contract for South Malekula Road Improvements
June 16, 2020 3:56 am | Posted in Business News | Share now TwitterFacebook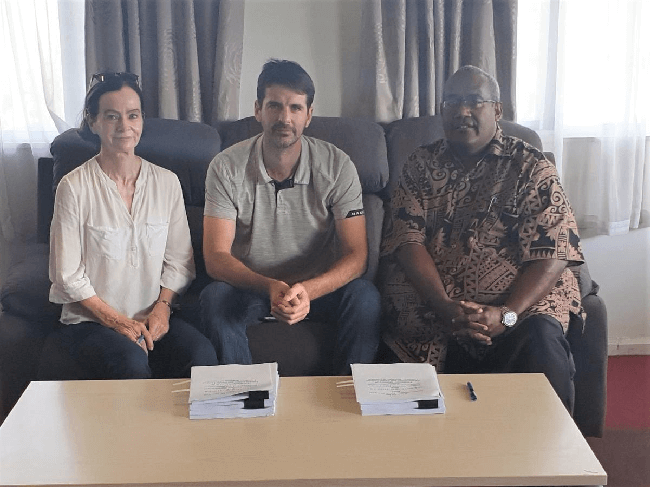 On 27 May 2020, the Minister of Infrastructure and Public Utilities (MIPU), Jay Ngwele signed a contract with the owner of Pierre Brunet Entreprise Generale, Christine Brunet for the Improvement of the South Malekula Road.
The ceremony was witnessed by Jona Mesao (First Political Advisor, MIPU), Pierre Brunet (General Manager) and Lawrie Carlson (Project Manager, VIRIP)
The contract was competitively tendered under the World Bank procurement rules for the Vanuatu Infrastructure Reconstruction and Improvement Project (VIRIP).
It was competed for by local contractors with Pierre Brunet Entreprise Generale being fortunate to win this contract.
The Minister was very pleased with the outcome and encouraged the contractor to make haste and complete the works as soon as possible, given COVID-19 and effects of Tropical Cyclone Harold.
The contract will improve road access from the MDC Junction to Lamap Airport Road and provide all weather access from population centres between population centres in the Central part of Malekula along the East Coast to South Eastern Malekula to key social/health infrastructure and economic link.
These works consist of:
• Regravelling of 9.3km section of road both north and south of Pankumu River, including drainage.
• 2.4km of Concrete Road
• Drift and Culvert Road Improvements at Tisman 1 (Northern) Stream, Tisman 2 (Northern) Stream, Pangir Culvert, Amburory Drift, Aulua Coop Drift, Burbar Drift, Rose Corner Drift and Weso Drift
Works have been planned and programmed in accordance with Public Works Department standard planning processes, involving significant consultation with provincial authorities and communities. All works will be undertaken as per standard Public Works Department Designs and Specifications.
It is expected that by May 2021 the works will have improved the disaster and climate resilience of the South Malekula Road for about 9000 people and will have improved all weather access. The crossing at Pankumu River is a major challenge for PWD and will not be completed at this stage.