Oxfam Wins C1m Global Award for Revolutionising Blockchain for Social Good ina The Pacific Jul 4, 2020
July 6, 2020 2:54 am | Posted in Business News | Share now TwitterFacebook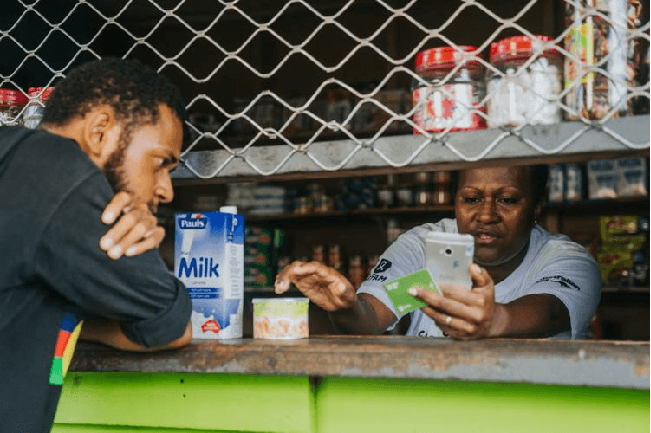 Oxfam in Vanuatu has been awarded 1 million euros from the European Commission's Horizon2020 prize.
Oxfam in Vanuatu's Cash Transfer Program (or CTP, as it is commonly known) has been making waves throughout Vanuatu, positively impacting the lives of over 13,000 people in the wake of the Manaro volcanic eruption back in 2018-19. Since its establishment in Vanuatu, CTP has proven to be an effective form of humanitarian assistance, especially in a country where more than half of the population live in remote areas where inaccessibility of roads cause delay in relief assistance during disasters.
Most recently, Oxfam sought to address some of the challenges and risks of delivering cash in the multi-island environment of Vanuatu through the piloting of the UnBlocked Cash Project, a blockchain-powered, fully automated e-voucher system that increases the speed of delivery, reduces cost, and makes all purchases fully traceable across a network of local vendors.
This innovative work in Vanuatu has now been recognized globally, having been awarded 1 million euros from the European Commission's Horizon2020 prize, destined for solutions to social innovations challenges using distributed ledger technology. The timing of the prize is especially notable — this is the same system that will be used to deliver cash assistance to people across Sanma, Shefa and Tafea provinces who have been affected by COVID 19. Oxfam is enhancing the e-voucher system and preparing to deliver through a consortium of private sector, civil society and NGOs in Vanuatu. This will be the first time this technology is used at scale in the Pacific region, and the first time globally that it is used by a consortium of partners across multiple islands, concurrently.
The UnBlocked Cash Project focuses on generating positive social change among some of the most vulnerable and remote communities in the world, starting with the Pacific. This is achieved through the pioneering of a decentralized model to address the global challenge of delivering international aid to disaster-affected women and men in ways that are more efficient, transparent and sustainable, utilising Distributed Ledger Technology (DLT).
In 2019, Oxfam applied for the international EIC Horizon Prize on Blockchains for Social Good which 178 organisations from around the world submitted their applications for.
The goal of the EIC Prize on Blockchains for Social Good was to recognise and support the efforts made by developers and civil society in exploring the decentralised applications of blockchains for social innovation.
The Prize proposed to cover areas such as traceability and fair trade, financial inclusion, decentralised circular economy, transparency of public processes, participation in democratic decision-making, and management of public records.
Oxfam's application contributes to the Prize's objective to develop scalable, efficient and high-impact decentralized solutions to social innovation challenges leveraging DLT. This innovation places disaster affected people and their communities at the center of decision making related to their cash-based entitlements and addresses the global challenge of linking institutions and individuals directly to those they want to support in ways that do not compromise transparency and accountability.
UnBlocked Cash a collaboration between Oxfam- a global leader in delivering humanitarian assistance and Sempo – a mission-driven Fintech start-up working at the intersection between humanitarian aid, technology and financial services. Together, Oxfam and Sempo have demonstrated the first successful trial demonstrating community co-development of a blockchain solution to deliver localised, cash-based disaster assistance in the Pacific region.
As partners, both recognize that local communities are always first responders – yet are rarely the main responders to the increasing challenges of natural, climate-related, and manmade crises. Solutions must therefore be built from the bottom up with engagement from local communities who know their needs best.
The UnBlocked Cash project builds upon the global commitment to deliver more humanitarian and development programs in the form of cash, voucher, and market-based approaches. The project offers an opportunity to improve the efficiency of how aid is delivered without compromising transparency and sustainability and by integrating digital financial inclusion and utilization of decentralized networks for a more collaborative economy at the community level.
Based on its massive success in the country, regional Oxfam offices have also requested the program to be established in the Solomon Islands, Papua New Guinea, and as far abroad as Venezuela. The ni-Vanuatu team based in Port Vila are now providing online technical support and training to these offices to help kick-start cash transfer programming in the two countries. In the environment of COVID-19, UnBlocked Cash is groundbreaking – as it can be delivered remotely, making it timely and efficient in a world where many borders are closed.
In November/December 2019, a Jury of 30 high level experts in blockchain technologies, innovation and social sciences made a preselection of the 178 received applications, according to the selection criteria defined in the Rules of Contest. Amongst the finalists selected, Oxfam in Vanuatu's Country Director Mrs. Elizabeth Faerua and Sandra Uwantege Hart who is the Pacific Cash and Livelihoods Transfer Programs Lead were invited to pitch the project in Brussels at the EU headquarters on 10 February 2020.
The Prize sought to award a total of 5 million euros to the innovators that come up with the most promising Blockchain solutions in 6 different social innovation areas; Oxfam was awarded under the area of Aid & Philanthropy, and recognized for pioneering a decentralized model to efficiently and sustainably deliver international aid to disaster-affected women and men. The winners will be awarded at the NGI Policy Forum in September 2020.
For more information, visit: https://ec.europa.eu/research/eic/index.cfm?pg=prizes_blockchains and https://www.ngi.eu/blockchainsforsocialgood/2019/12/20/the-unblocked-cash-project/
To see the UnBlocked Cash video, featuring communities in Vanuatu who helped to build this solution, see: https://www.youtube.com/watch?v=ssa-ku22w0k