SOE Regulations Breached
July 6, 2020 2:31 am | Posted in Business News | Share now TwitterFacebook
By Anita Roberts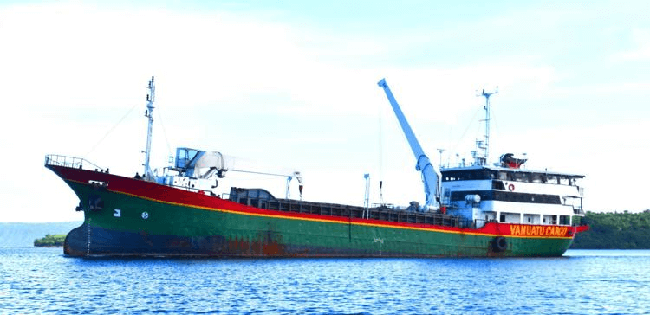 Vanuatu Cargo has been instructed to leave Vanuatu waters immediately after arriving in Port Vila from abroad without authorization.
As of yesterday, the vessel was anchored off Mele Bay.
Everyone on board are not allowed to disembark or discharge any goods within the port of Port Vila or any international port.
The vessel failed to get approval from NDMO before returning to Vanuatu, said Director of the National Disaster Management Office (NDMO), Abraham Nasak.
"It did not respect the instruction given to leave Vanuatu waters.
"Currently, relevant authorities are considering action against the person who issued authorization for the ship to travel to Vanuatu, crews and owners of the ship," he said.
Director Nasak said maritime borders are still closed to international voyages unless it's for relief or cargo supplies purposes as spelled out in the SOE emergency regulation order no.71 of 2020.
Current SOE regulations do not permit Vanuatu Cargo to enter Vanuatu waters therefore, it has to leave the country and return once the regulation order is amended to cater for international vessels, he added.
The government has made it clear that the repatriation of citizens and residents abroad was closed since June 24 until next month.
On Thursday this week, NDMO issued several directives to relevant authorities regarding the breach of COVID-19 State of Emergency (SOE) Regulation order No.17 of 2020 and no.77 of 2020 by the vessel.
One of those directives is for the Commercial Manager of the Vanuatu Ferry Ltd to be investigated by police for not complying with SOE regulations.
The next directive is that Vanuatu Cargo must not enter Vanuatu waters from its international voyage till the end of the first week of August.
According to NDMO, further action will be taken against the vessel, master and owner if these directives are ignored.
Relevant authorities were instructed to enforce these directives.
Vanuatu Cargo was in Australia for repairs several months ago.
The Daily Post tried to get a comment from Vanuatu Ferry Ltd prior to print but was unsuccessful.