Over Vt2 billion budget for MALFFB next year
September 28, 2020 11:27 pm | Posted in Business News | Share now TwitterFacebook
By Anita Roberts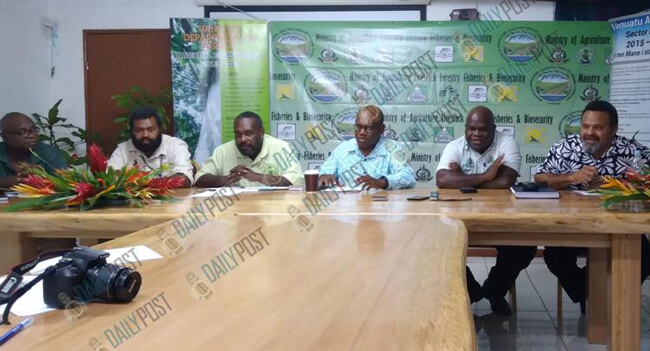 The Ministry of Agriculture, Livestock, Forestry, Fisheries and Biosecurity (MALFFB) is targeting a budget of over Vt2 billion next year.
Director General (DG) of MALFFB, Moses Amos, conveyed this in a press conference yesterday to provide update on a number of developments which includes MALFFB's stimulus package and subsidy.
"Our recurrent budget is about Vt1.1billion," he said.
"The figure will increase with around Vt700 million additional funds from EDF11 and another Vt300 million from EDF11.
"These are secured funds."
The increase in MALFFB's budget next year is good news to farmers since the funds will enhance productivity, said DG Amos.
This year the MALFFB budget was Vt1.1bilion, plus additional funds from EDF11, according to the DG.
In 2008, the MALFBB budget was Vt331 million.
This small budget was seen as a barrier to implementing lot of activities and projects across the sector.
Following the COVID-19 crisis, the government has now shifted its focus to developing the agriculture sector to sustain economic growth.