Vodafone provides free access to online resources
September 28, 2020 11:57 pm | Posted in Business News | Share now TwitterFacebook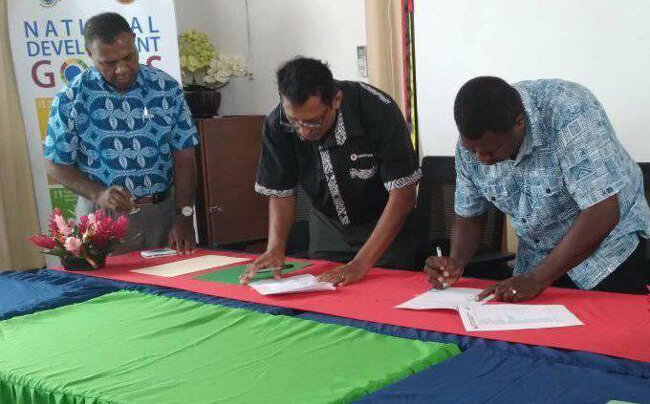 In an effort to ensure children continue their education in this time of crisis, Vodafone as a main telecommunication company has committed itself to provide free access to e-learning content.
As part of a Memorandum of Understanding (MoU) signed yesterday, Vodafone will be providing free access to key learning websites to all children across Vanuatu, which include 34 websites and ensure that the Ministry of Education and Training (MoET) website be accessed free of charge by all Vodafone users.
The Minister of Education, Seoule Simeon, and the Chief Executive Officer (CEO), Barlen Lutchmoodoo, put pens to paper to formalized the agreement.
Minister Simeon stressed: "Parents, communities and children are worried about the impact the situation will have on children's learning and future.
"Thanks to Vodafone, key learning websites are freely accessible to as many children and parents as possible across Vanuatu. It is a big step to support education continuity."
CEO Lutchmoodoo said said: "We (Vodafone) had to do something to support the country in this crisis thus, responded positively to the MoET's request."
According to the MoET, a lot is at stake to ensure education continuity with the COVID-19 pandemic ad TC Harold.
'Access of Information-Saving Lives, Building Trust, Bringing Hope', this year's theme for the International Day for Universal Access to Information is inline with the challenges faced this year.
These are some of the websites that are free of charge for Vodafone users:
moet.gov.vu, education.gov.vu, notesmaster.com, elearn.usp.ac.fj, samlectures.usp.ac.fj, vanlectures.usp.ac.fj, vrepo.usp.ac.fj, bbb.usp.ac.fj, etudessupvan.edu.vu, www.pvisvanuatu.org, seesaw.me, www.educationperfect.com, support.google.com/a/answer/9012184?hl=en, learnenglishteens.britishcouncil.org, learnenglishkids.britishcouncil.org , www.natgeokids.com, malapoacollege.edu.vu, centralschool.edu.vu, www.box.com, www.digitallibrary.io, www.feedthemonsterapp.com, www.antura.org, bloomlibrary.org, shop.ekitabu.com, www.ekitabu.com, www.bookshare.org,vkitkitschool.com, deafworldaroundyou.org, kukua.me/sema, stories.audible.com,www.wikipedia.org, and www.khanacademy.org