NBV marks 10 years as VNPF tenant
July 6, 2021 11:21 pm | Posted in Business News | Share now TwitterFacebook
By Anita Roberts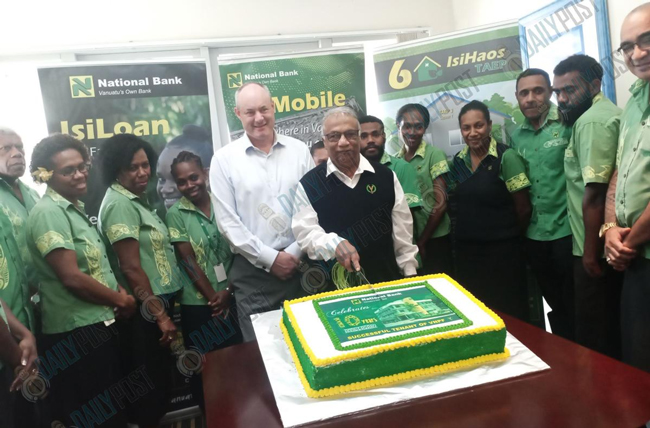 The National Bank of Vanuatu (NBV) celebrated 10 years as a tenant of the Vanuatu National Provident Fund (VNPF) yesterday.
Located next to the former Club Vanuatu in the centre of Port Vila Town, NBV Building is one of the property investments of VNPF.
The original investment value of the property was Vt496, 146, 382 and the total payments received to date is Vt622, 901, 811.
General Manager (GM) of VNPF, Parmod Achary and some staff joined the Chief Executive Officer (CEO) of NBV, Geoff Toone, and staff in a cake cutting to mark 10 years of NBV being a tenant to VNPF.
CEO Toone commended VNPF for keeping the property in good condition throughout the past 10 years, as part of its obligation.
VNPF and NBV have always had a close working relationship. VNPF has been an active shareholder of NBV for many years.
VNPF is currently the major shareholder in NBV, having 56% ownership.
Apart from the NBV Building, VNPF has also invested in other properties such as the Air Vanuatu Building next to NBV Building, a Second Lagoon property located in the area opposite ex ground force overlooking the second or Emten lagoon, the former Club Vanuatu, former TVL Post Office building, Australian High Commission, Conquista Villas at Pango, Wilco property, Stella Marie property, Bouffa Range at Monmarte area and Beleru/Milai Farm on Santo.