Interchange signs sponsorship for e-commerce symposium
July 5, 2021 11:06 pm | Posted in Business News | Share now TwitterFacebook
By Josepheen Tarianga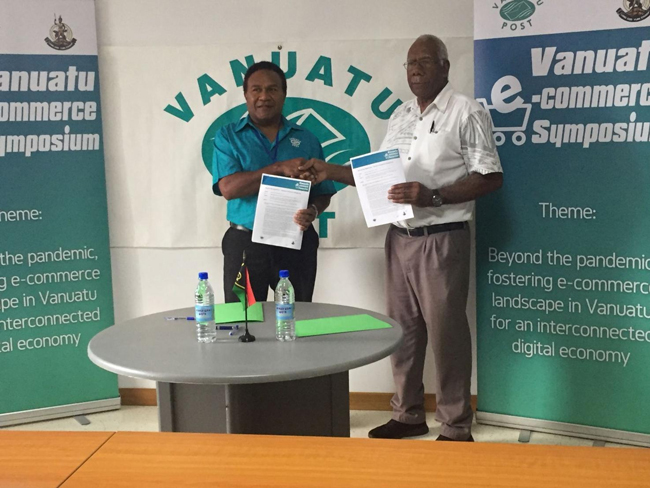 Interchange Limited has signed an agreement with Vanuatu Post Limited to be a sponsor of the first ever e-commerce symposium in the country.
Yesterday the General Manager of Interchange, Willie Ben Karie signed an agreement with Vanuatu Post Chief Executive officer, Vira Timbaci, agreeing to sponsor the event.
"With Interchange as a sponsor, there are now over 15 sponsors each involved in an aspect of e-commerce. we will be looking to make this symposium an annual thing," he said.
CEO Timbaci stated that the e-commerce symposium is an awareness event that give the public an idea as to what e-commerce is, the rules and regulations it comes with and how one can use e-commerce safely.
"In present times, we see a decrease in letter writing as people now use their phones for this. The Vanuatu Post sees an increase in exchange online, buying and selling goods. It is a great potential market but not many people know how to use it," Mr Timbaci continued.
The symposium is an event jointly initiated by the Ministry of Trade and Vanuatu Post.
The symposium is scheduled for the 8th and 9th of July, to be hosted at the Convention Center. The theme of the event will be "Beyond the pandemic, fostering e-commerce landscape in Vanuatu for an interconnected digital economy".
"There will be speeches, different panel discussions as well as each business presenting itself in individual books at the symposium, all to enlighten the public on e-commerce," says Mr Timbaci.
Mr Karie says;"Interchange is very happy to sponsor this special event as today we live in a time of revolution numerique. Internet is becoming necessary to do business around the world and Interchange plays an important role here to get Vanuatu in the outside world but also within the country."
Interchange is a local company with VNPF being the major shareholder and the E-commerce symposium is for the benefit of both employers and employees.
"I can add that last week, Interchange has paid US$187500 in dividend to VNPF," says Mr Karie.