Locals capitalizing on Free Fun Bus initiative
June 8, 2021 8:50 am | Posted in Business News | Share now TwitterFacebook
By Josepheen Tarianga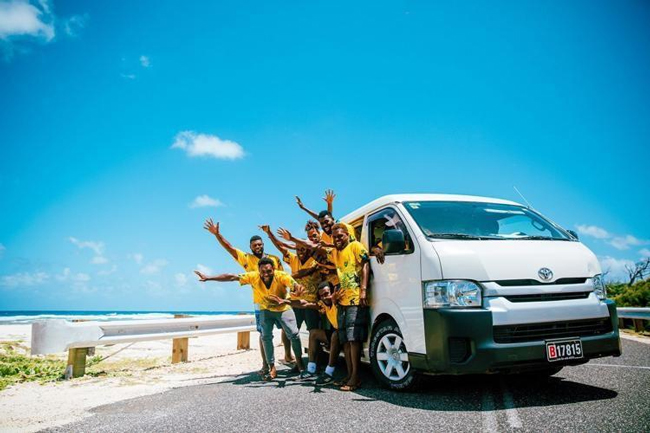 The Vanuatu Tourism Office (VTO) has implemented another novel, innovative and fun initiative to promote local tourism in Vanuatu, the Free Fun Bus (FFB).
Domestic Marketing and Tourism officer, Angelina Songi says that local tour operators, restaurants, accommodations and other institutes that benefit from tourism have no way to generate income during the pandemic.
The borders are closed, limiting Vanuatu's tourism markets.
Creating the Free Fun bus is intended to encourage locals to board the bus for free, get to a tourism site and spend money to help these sites generate an income.
VTO realises that operators of tourism sites in far locations such as North of Efate and further into Santo have trouble getting guests because of a lack of transport. The FFB is intended to help resolve this problem.
The FFB encourages locals to be domestic consumers, local tourists.
The FFB transports free of charge, booking is available at the Vanuatu information Center (VIC) office.
This is opposite Alliance Francaise in town, next to Western Union.
Bookings are open from Mondays to Fridays from 8am-3pm. Upon booking a VT1,000 Deposit has to be made. This is in case the booking is not met, then the VT1000 is not returned. However, if customers do use the FFB, the deposit is returned.
The buses are only available on weekends and public holidays with two FFB in service a day.
The FFB also operates in Santo presently.
There is an itinerary of local tourism sites prepared that people can choose to go when booking the FFB. After booking the VIC makes all other arrangements to ensure complete ease for the consumer.
The FFB has generated a lot of positive feedback.
"More than 50% of consumers are making use of the FFB," Songi said.
"We are able to see a lot of locals that are now through the FFB able to go out and spend at local tourism sites."
The Domestic Marketing and Tourism officer also talks about VTO's Tourism Marketing storian. VTO visits outer islands and tourism operators that are registered in the VTO database.
The purpose of this is to help find local operators find ways to market their business as well as prepare them for the borders opening which may be soon.
This means updating web pages, putting up updated pictures and contacts as well as adding a google mapping feature to help international travellers.
So far, the VTO has visited several islands such as Islands in Torres, Banks, Mota Lava, Rah Island, Vanua Lava, the East and South of Santo, South, Central and Eastern part of Malekula, North Efate, Pele, Nguna, Tanna and Aneityum.