300 Coconut Bag Project first Production Workshop
June 8, 2021 7:46 am | Posted in Business News | Share now TwitterFacebook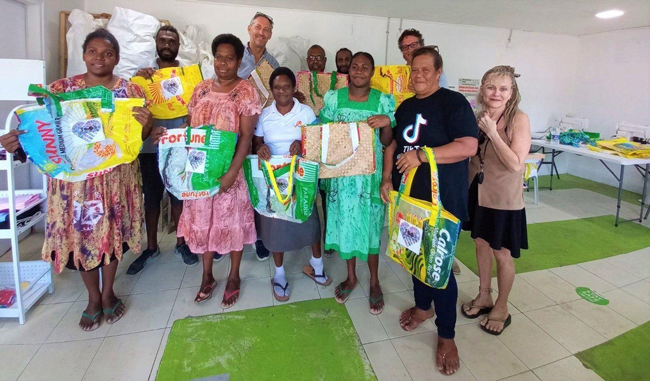 The 300 Coconut Bag Project, an initiative to train and support unemployed youth and people with disability to engage in the local bag making industry has recently launched its first ever production workshop.
The project uses thrown away plastic bags on seaside and beaches to make strong reusable "300 plastic" market bags (that can repeatedly for at least one a year, strong enough to carry 300 coconuts over the course of the year).
Four sewers who were previously unemployed due to COVID-19 economic downturn participated in the first workshop.
They are using recycled plastic collected by 20 unemployed youth and youth with disabilities from neighborhoods around Vila to sew the new bags.
To date the team has produced more than 500 reusable shopping bags. Samples are on sale at the Tagabe workshop.
Stakeholders of the 300 Coconut Bag Project are VSPD, V-LAB, Mamma's Laef, handicraft associations, Ministry of Foreign Affairs Oceans Office, Department of Environment and Vanuatu Brewing Limited (VBL).
All partners are contributing to improved livelihoods during and beyond COVID-19 and working towards environment improvement for Vanuatu.
The project offered thanks to VBL for providing a free space that is now used as the production workshop.
300 Coconut Bag Project is implemented by The Pacific Community (SPC) and the Government of Vanuatu through funds from the Canada Fund.