Limited fund hindering water concession expansion
July 14, 2021 11:14 pm | Posted in Business News | Share now TwitterFacebook
By Anita Roberts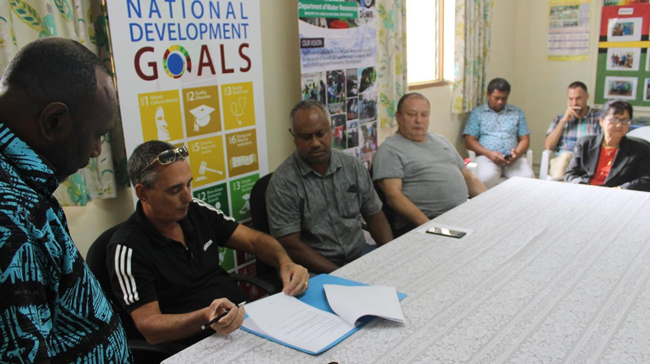 Having adequate funding to implement the Port Vila Water Supply concession expansion to populated surrounding areas of Port Vila by 2023 is a challenge, stressed the Director of the Department of Water Resources (DoWR), Erickson Sammy.
Signed between UNELCO and the government of Vanuatu, the 5-year agreement aims to expand access to clean water to areas such as Bellevue/Beverly Hills, Mele/Melemaat, Tuktuk, Bukura, Eratap, Narpow Point and Etas over a period of 5-years starting in 2018.
Director Sammy said current funds being sourced from the Water Development Fund is not enough to quickly implement the concession implementation but they are trying their best.
The Water Development Fund was established to support the government's policy of providing access to drinking water for the greatest number of people.
The fund is endowed with a contribution of Vt5/m3 of water consumed, collected from all customers. UNELCO is in charge of collecting this money, to be fully remitted to the government for the improvement of water systems for the outskirts of Port Vila.
Director Sammy said they will be exploring other funding sources from the government or through multilateral partnerships to help speed up works.
The first area outside Port Vila to be added to the UNELCO Concession was Teoumaville in 2019. Works are underway for the second area, Teouma Valley.
An agreement was signed recently for the ownership of the water assets at the Teouma Valley Subdivision to be transferred to the Government.
It was signed by REST Development Ltd as the developer of Teouma Valley Subdivision and the Ministry of Lands and Natural Resources.
DoWR and UNELCO will be working together to upgrade Teouma Valley water system to UNELCO standards.
Residents at Teouma Valley will benefit from the agreement by receiving same quality water as enjoyed by other Port Vila customers and same affordable water rates, said Director Sammy.
Director Sammy said everyone has the right to safe water thus, it is important that water systems come under the supervision of qualified operators or individuals specialise in water supply and treatment.
A further agreement will be sign for UNELCO to operate and maintain the Teouma Valley water system on behalf of the government. A representative from UNELCO was present during the signing occasion and officials from the State Law and Utilities Regulatory Authority (URA).
Director General (DG) of the Ministry of Lands, Author Faerua, emphasized that ensuring access to clean and affordable water, as one of the sustainable development goals, remains a priority for the government.
A total of Vt7 million was formalized in the agreement as compensation to Rest Development Ltd.
Director Sammy said they plan to work at Narpow Point after upgrading the Teouma Valley water system.