LDC screens at airport to boost Biosecurity awareness
June 16, 2020 11:52 pm | Posted in Business News | Share now TwitterFacebook
By Anita Roberts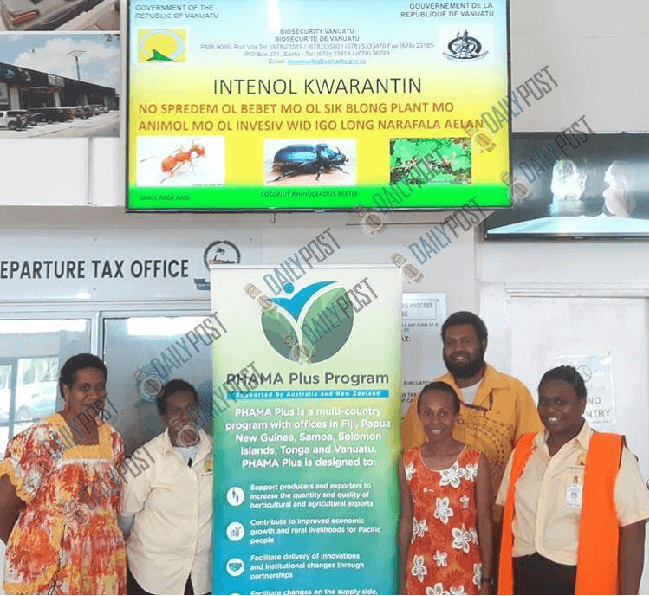 Travelers are encouraged to take time to read and understand the animal and plant pest and diseases awareness on LDC screens installed at the arrival and departure areas of the Port Vila domestic and international terminals.
The Government has started allowing repatriation flights, thus the Department of Biosecurity (DoB) is at the forefront to protect the country's environment and economy from any exotic animal or plant pest and diseases.
The repatriation flights will be bringing back over a thousand stranded citizens from different countries with exotic pests and diseases such as swine fever.
Acting Assistant Plant Health Pathology at DoB, Bill Garae, explained that pests and diseases can be introduced through the movement of people and materials thus, it essential for travelers to read the advice on the screens and take responsibility.
"Locals can unknowingly spread destructive pests such as fire ants and coconut rhinoceros beetle (CRB) when traveling from Efate to other islands," he said.
"Pests and diseases often thrive in drought and wet environment caused by disasters such as tropical cyclones.
"The DoB will stand firm to prevent them spreading. We plan to install other screens at airports in Tanna and Santo, including seaports."
DoB's Principal Biosecurity Officer, Touasi Tiwok, stressed that SWP and RSE agents need to relay these advices to their workers who will be repatriated soon.
She thanked the New Zealand (NZ) Government, through Landcare Research and Australian Government funded Pacific Horticultural and Agricultural Market Access Program (PHAMA) Plus program for financing the screens.
PHAMA Plus said it is pleased to assist the DoB preparedness and emergency response to increasing biosecurity threats in the region.
These LDC screens will increase visual awareness of emerging biosecurity threats such as African swine fever and other animal health issues as CRB, said PHAMA.