iCOUNT invests in Youth Organisation
September 2, 2021 2:29 am | Posted in Business News | Share now TwitterFacebook
By Josepheen Tarianga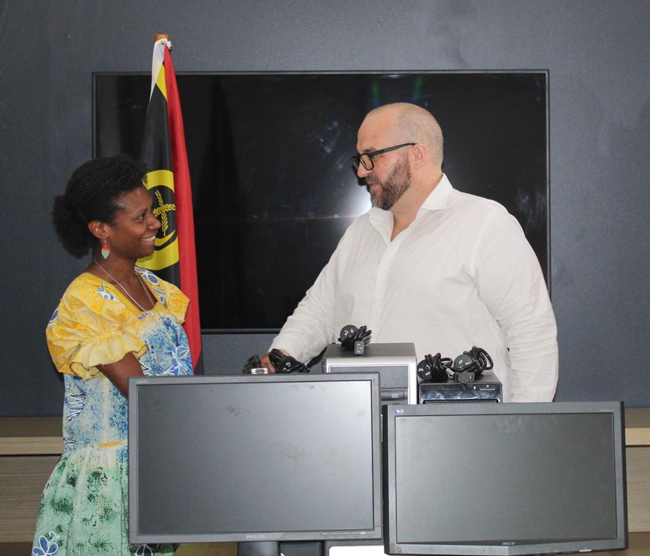 Youth Challenge Vanuatu (YCV) has received some computer equipment from ICOUNT, Vanuatu's leading accounting and advisory firm.
iCOUNT is a strong supporter to empowering youth through education. The recent donation of much needed IT equipment to YCV, follows previous donations of 38 filing cabinets to schools, church groups and medical centres.
iCOUNT has a growing relationship with YCV, having held mock professional interview training for 39 of its job seeker placement graduates which resulted in the firm taking on 3 trainees – one of which has been employed on a full-time basis and the others retained on traineeships.
According to YCV's Public Relations Manager, Lillyrose Welwel, the centre deliver programs with aim to up-skill and empower marginalized youth in leadership, employment, education and small business.
One of these several programs, 'Ready for Work', trains young people to be entrepreneurs before entering the workforce. As part of this training, YCV offers basic computer literacy skills to improve the youth's prospects of landing a job, enhancing careers and business earnings.
YVC has a computer lab for its trainees, but some of its computers are no longer working.
Welwel said, "Our trainees will improve their computing skills when they spend more time using a computer. One of the main problems is that young adults do not get enough hands-on experience with computers, as they should, to better their knowledge on how to use them.
"The trainees, being able to use computers every day in our lab after trainings will increase their computer knowledge and would also help them to get better jobs after their placements."
iCOUNT's Managing Director, Daniel Agius, said,"ICOUNT is proud to be associated with YCV. We will continue to support Vanuatu youth through education because by doing so, we are playing our part to shape our leaders and economic drivers of tomorrow."