Hospitality Industry lacking skilled workers
May 24, 2022 12:19 am | Posted in Business News | Share now TwitterFacebook
By Josepheen Tarianga.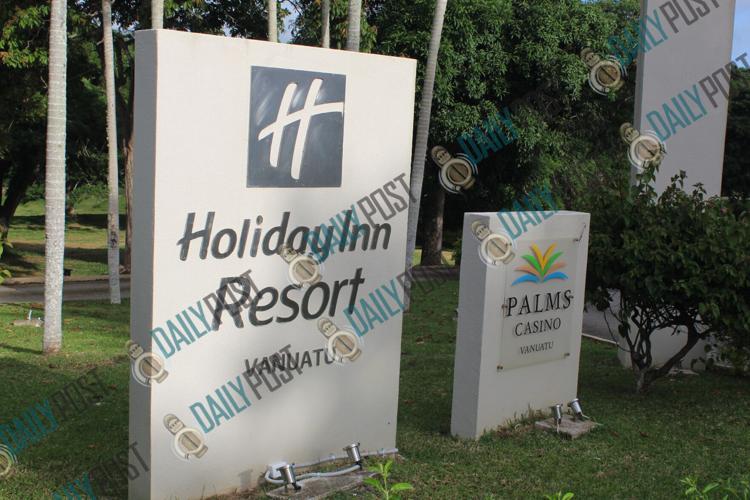 Hospitality businesses are at different stages of staffing in preparation for the border reopening because seasonal work has taken able bodied workers away.
At this time, with the border reopening just a few months away there are many concerns as to whether or not the Vanuatu's Hospitality industry can be adequately staffed by the border opening date set, July 1 2022.
The Holiday Inn Resort of Vanuatu has had several staff members leave on seasonal work and return as staff to the resort. However, since March of 2020 the Resort experienced a decrease in headcount by 50%, the majority of which has been natural attrition, stated Director of Sales and Marketing at the Holiday Inn, Sophia Rodwell.
The resort is looking forward to employing over 170 people once Vanuatu's international border reopens sometimes in mid-June, as having people employed now with no business is not sensible, Rodwell explained.
"The resort will have a soft opening in July when the borders open. We can train staff in-house but some positions like chef need expertise," she added.
Nasama Manager, Sarah Vogelsberger, shares that Nasama is also in need of a Chef and has been putting out a vacancy for the last two years as well as advertising for staff for the last four months. With no one meeting the criteria for Chef in the country, Nasama is advertising abroad for the position.
"The Nasama Resort is ready to open, but not the Nasama Restaurant. At this point in terms of staffing, I will have to say we are not ready for the border reopening just yet," she said.
Moorings on the other hand is prepared and has not closed through the pandemic. This way, it does not necessarily need to restaff but will be employing as a contingency plan in case any of the present staff choose to go abroad on seasonal work, according to the Assistant Manager of Moorings, Anita Ambong.
All eyes are on the international chain resorts within the country as their readiness tells the rest of the world that Vanuatu is awake and open once more. While Holiday Inn is ready to employ in June, Warwick Le Lagon recruitment is struggling
"We will be ready for the reopening on 1st of July, however, we are facing major issues in recruiting staff especially skillful staff," said the General Manager of Warwick Le Lagon in Vanuatu, Ali Serhan.
He added that Warwick will try to manage the situation, but it needs assistance from the Department of Labour in granting permits quickly, or with certain positions that Warwick cannot fill locally at this stage in order to ease the process a little bit.
"One of the difficulties we have are counterpart for expats in certain positions, at the moment there are none as all staff have left," Mr. Serhan said.
Starting five weeks ago, Ramada on site staff such as gardeners, maintenance and housekeeping have been preparing Ramada room by room.
"Preparations have also been made to the kitchen and restaurants and by the end of June it shall be ready to accommodate tourists," Country Director of the Ramada Resort, Loic Bernier said.
Mr. Bernier added that for the most part Ramada should be able to fill roles such as chefs, additional kitchen staff and bar and restaurant managers within the country in the next few months or after the soft opening. However, there is a little issue with recruiting skilled administration staff and Ramada is still looking to employ in areas that require a bit of skill.
"Another issue is Ramada needs to employ expat staff for higher positions like General Manager, Chief Financial Officer and potentially one or two staff positions that require very high skill levels. Without the GM, Ramada cannot open," Mr. Bernier said, adding he is confident that Ramada will be ready to open in July.
Ramada is prioritizing reemploying its staff that have been away on seasonal work. Mr. Bernier mentioned as Director of Chantilly's on the Bay, Chantilly's is fully staffed as of this week, but Ramada is still employing.
While many hospitality businesses are looking to employ, all are working to upscale operations according to what is needed by the amount of bookings that are made upon the border reopening on July 1.