Helicopters shipped to New Zealand for maintenance
October 20, 2021 11:20 pm | Posted in Business News | Share now TwitterFacebook
By Hilaire Bule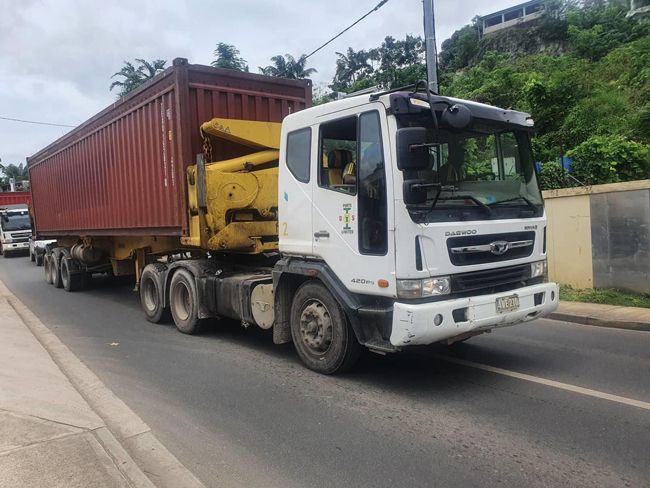 People in Port Vila witnessed a long traffic jam midday yesterday from Tagabe to the Port Vila main wharf without knowing the two containers on the two lorries causing the jam, were transporting two helicopters — Robinson 44 and Robinson 66 — to be shipped to New Zealand.
Chief Pilot of Vanuatu Helicopters, Andy Martin, confirmed to Daily Post yesterday that the two helicopters have to be shipped to New Zealand for maintenance. Mr. Martin said he doesn't know when the two helicopters will be back in Vanuatu, due to border control because an engineer is required to assemble them in Port Vila.
He explained the only reason why they have to send them to New Zealand is the lack of a qualified engineer for helicopters in Vanuatu. However, they cannot fly one from overseas into the country due to restricted border control.
Martin said the pandemic has created severe financial impact to the company. He said the last operations that involved Vanuatu Helicopters was during cyclone Harold last year.
"My last flight was on 3rd of April, 2020 during cyclone Harold, since then the two helicopters were grounded here with no maintenance," he said.
"It is a worry if the two helicopters are not back in Vanuatu after maintenance works because Vanuatu is approaching the cyclone season."
Martin said during cyclones, the eruption of volcano and other natural disasters they were the first to go to affected areas for the evacuations and government assessment before the local people can receive assistance.
"We do medical evacuations, emergency evacuations and marine rescue," he said.
Vanuatu Helicopters has been operating in the country since 2006. It employed two expatriate and 4 Ni-Vanuatu pilots. With the departure of Robinson 44 and Robinson 66, they are now unemployed.