Ground breaking of new Department of Labour building
November 2, 2020 4:18 am | Posted in Business News | Share now TwitterFacebook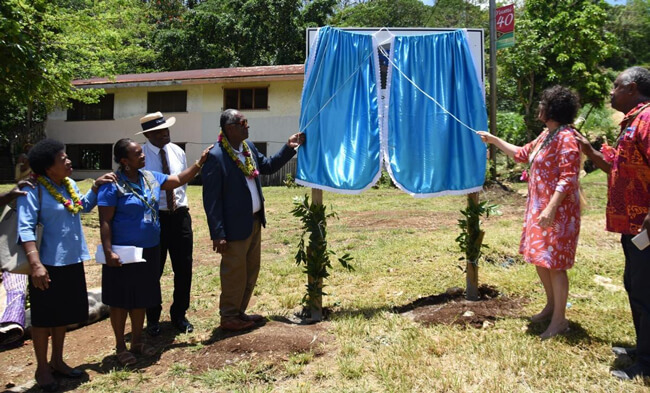 For the first time since 1980, the Department of Labour (DoL) will have a new office building dedicated solely to its work, located at Independence Park near the Ministry of Internal Affairs.
Deputy Prime Minister and Minister of Internal Affairs, Ishmael Kalsakau, Australia's High Commissioner to Vanuatu, Sarah deZoeten, Director General of the Ministry of Internal Affairs, Cherol Ala, and Commissioner of Labour, Murielle Meltenoven, attended a ground breaking ceremony for the new building on 29 October.
Demonstrating respect for traditional governance, DPM Kalsakau gifted food, mats, kava and a pig during the ceremony.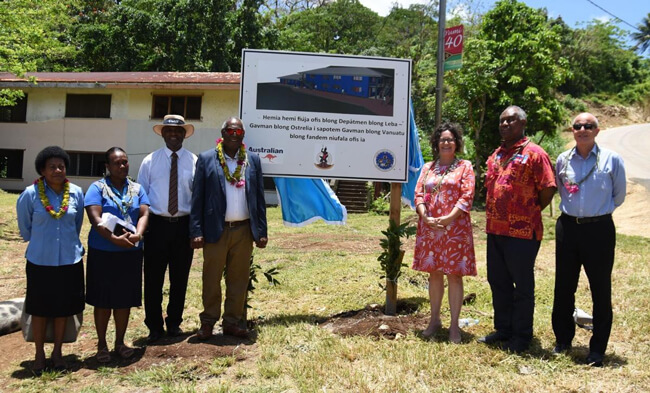 "Australia is pleased to partner with the Vanuatu Government and support the refurbishment of this building which will contribute to enhancing the Department of Labour's ability to provide services to ni-Vanuatu and uphold its reputation as the biggest labour sending country in the Pacific," said the Australian High Commissioner Sarah deZoeten.
"This refurbished building is testament to the partnership between Vanuatu and Australia and the importance of labour mobility to both our countries."
DG Ala said, "This project demonstrates the spirit of maturity of the Department of Labour in Vanuatu.
"It is a testament to the partnership between Vanuatu and Australia in the labour space, built on respect, maturity, participation and responsiveness. Labour plays an important role to the economic growth of Vanuatu.
"Success of individual workers brings forth the success of individual families, communities, provinces and Vanuatu as a whole. This project is a milestone in this wave of success."
Commissioner Meltenoven said "On behalf of the Department of labour, I would like to thank the Government of Australia for funding this project. This achievement, the renovation and refurbishment of the new Department of Labour office reflects the great strength of the 40 years of partnership between the Governments of Vanuatu and Australia."
The Vanuatu labour mobility program has grown a lot over the last ten years, and in 2019 a total of more than 10,000 workers travelled to Australia and New Zealand with the Seasonal Worker Programme, Pacific Labour Scheme and RSE. The newly refurbished Department of Labour building will enable the delivery of training and services to the departing workers and provide much needed office space for the Department, including the Employment Services Unit that manages the implementation of labour mobility programs. This increased office space will also support the Department of Labour's national labour initiatives, as well as all the other roles that it performs such as conducting OHS checks, preparing and approving work permits, and facilitating work place mediation.
The funding of this renovation and refurbishment project equates to 65 million vatu. The Public Works Department within the Ministry of Infrastructure and Public Utilities is responsible for implementing the project, in partnership with the Department of Labour and the Australian Government. Part of the funding will be allocated towards building a new training space which will be used for seasonal worker Pre-Departure Briefings and other related 'work ready' and 'reintegration' training for workers.