Government confident cooperatives hold key to inter-island trade
July 17, 2020 3:38 am | Posted in Business News | Share now TwitterFacebook
By Len Garae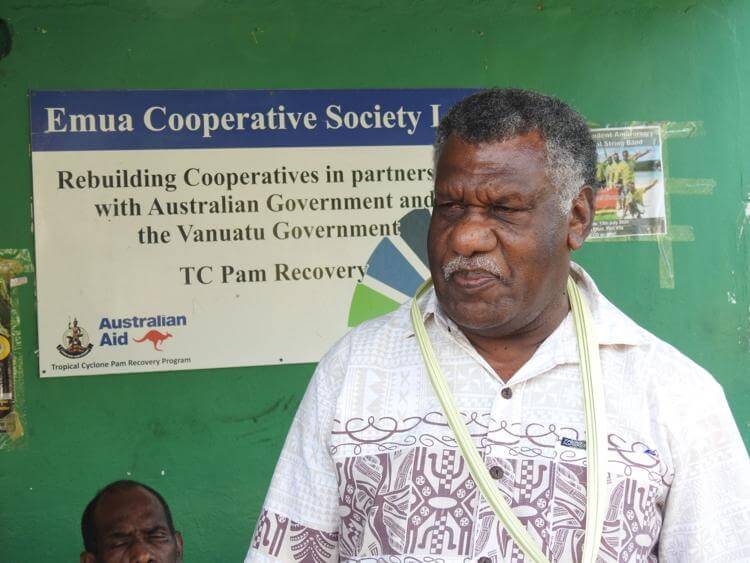 It is vital for the Nation during the unpredictable COVID-19 presence in the world today, for the people to diversify their commercial activities to work together by investing their income through the formation of cooperatives and productive sector through farming.
Minister of Trade, Tourism, Cooperatives, Commerce and Industry, James Bule, delivered the message on behalf of the Government to the first nine cooperatives that operate round Efate Island two days ago.
The determination by the Minister and his political secretaries and technical managers kicked off in the morning and ended well after eight o'clock in the evening, reflected the importance of an alternative economic route he has announced as the most appropriate one to take at this time.
There was excitement in the air as the Chairmen of the cooperatives said how grateful they were for the Minister to have become the first National Leader in the last forty years to humble himself to visit them in their villages.
Both investment initiatives have already been proved feasible since they were both successfully utilised by the Leaders of the Independence Struggle during the colonial era from 1974 to 1980, to prove to the two colonial administrators Britain and France that the islands were capable of ruling themselves after 74 years of what they termed as "statelessness".
It was the powerful indigenous operation of cooperatives to form the once New Hebrides Cooperatives Federation, which expanded to own a New Hebrides Cooperatives Savings Bank which included owning inter-island ships namely MV Semle Federation and MV Nalkutan, which linked the islands by sailing up and down the archipelago to deliver goods for the cooperatives while collecting copra from the producers and agricultural produce from the farmers for sale in Port Vila.
While the Minister and Director of Cooperatives, Ridley Joseph, stopped short of saying the Government needs to buy an inter-island vessel to sail throughout the islands to link the cooperatives, the inter-island trade would need its own ship.
"The Government is determined to consider using the same Cooperatives Network to trade between the islands instead of depending on imported rice and tinned fish", Minister Bule said.
The brainchild of today's Vanuatu National Bank was the New Hebrides Cooperatives Savings Bank.
"The Government emergency response to the impact of Cyclone Harold meant it had to purchase imported tinned fish alone for approximately Vt3 million to ship to victims in the islands, but if we had planted enough organic local food including yam and kumala and taro on our own farms, the Government would spend that money buying food from our own farms to feed our people", he said.
The Minister delivered the same message at all the cooperatives he has visited so far.
He has given instruction to his Director General, Roy Mickey Joy a time frame to reactivate all cooperatives throughout the country within the next three months but added that depending on the situation the ground, the duration could be extended to one year.