One Stop Shop' claims former French Flag Pole
August 4, 2020 11:52 pm | Posted in Business News | Share now TwitterFacebook
By Len Garae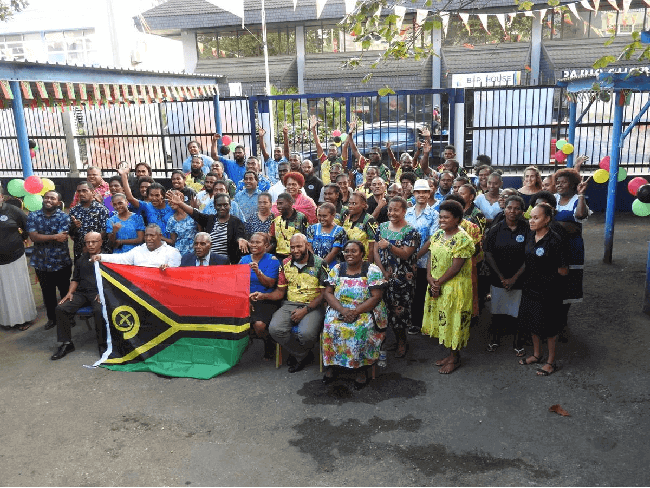 It is said that sometimes a person does not see the most important thing that is right in front of his or her eyes.
This is exactly true regarding a 40-year old colonial relic in the form of a flag pole which stood a mere metre on the left opposite the concrete steps leading up to the Department of Labour, Vanuatu Foreign Promotion Authority and Department of Immigration and Customs and Vanuatu Tourism Office.
The Government 'One Stop Shop' is located in the former French Embassy Building in Central Port Vila which is located on the other side of the street immediately opposite Jungle Juice Café.
It was not until the eagle-eyed Chief Executive Officer of Vanuatu Foreign Investment Promotion Agency, Howard Aru, was appointed.
Thanks to the Department Heads of all the Departments in the Building who all saw the importance of claiming the flag pole for the people of Vanuatu for the first time, by raising the first Vanuatu Flag up the pole.
In fact, this was the first flag pole to signal the celebration of the 40th Independence Anniversary when a police officer raised the flag up the pole witnessed by invited guests.
However most of them did not feel the heavy emotion that welled up inside a few eye witnesses including the Director General of Trade and former Ambassador to European Union, Roy Micky Joy. In his keynote address, the former diplomat who spent over 10 years in Europe was nostalgic in his memory of his young school days in Port Vila.
He said it was indeed a miracle when the country's original leaders raced against time to design the country's Flag, write the Constitution, write the National Anthem to replace the British and French national anthems and produce the first Vanuatu Passport.
The DG said those who were 40 years and younger, would never know the country's young heart beat in the last quarter leading to July 30th of 1980.
Things were completed at unbelievable speed to meet the dateline for Independence.
For this reason, the DG said as a ni-Vanuatu, he said he understood why so many national leaders today did not support the sale of the Green Passport as it is the country's "identity" and should not be sold for monetary gain.
He said the term "statelessness" was in reference to all then New Hebrideans who, in the absence of a genuine passport, were allowed to travel on a black or dark blue covered document which clearly stated on one of the pages words along these lines that the holder of the document did not own it, that it belonged to the British/French Governments and they had a right to take it away from the holder at any time.
For this reason, the DG appealed to all young people to read to understand the history of the country to appreciate and respect these important items that qualify Vanuatu as a Sovereign Nation.