FLOUR SHORTAGE
November 16, 2021 9:58 pm | Posted in Business News | Share now TwitterFacebook
By Josepheen Tarianga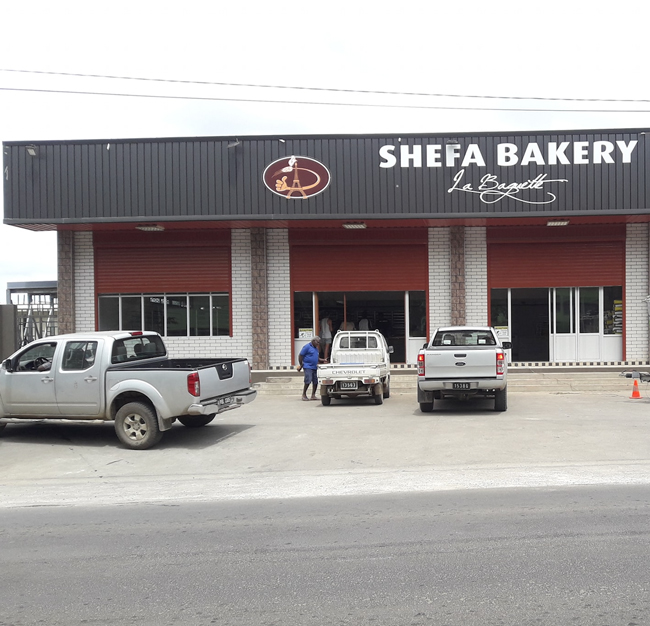 Port Vila is no stranger to shortages since the pandemic hit, presently the capital is facing a shortage in flour, forcing some bakeries to close.
The capital has around 6 bakeries that supply homes, resorts and restaurants with bread.
Out of the 6, Brother Bakery and Shefa Bakery have temporarily closed, while La Parisienne is still in business with the price of bread, moving from VT60 to VT70 per loaf.
Brother Bakery has signs posted on its walls announcing that the bakery that doubles as a takeaway and shop has no bread available.
The Brother business owner's wife stated the bakery has been out of flour for about a week. The flour shortage means the bakery has not been in business for about a week, with many customers coming in to ask for bread.
"We are expecting the container of flour to come in today but we have not received any flour yet," she says.
Brother bakery is yet to receive flour and is not sure when its customers will be able to buy bread fresh from the bakery again.
Shefa Bakery manager, Galinie Jean Louis, confirmed Shefa Bakery has closed in the last week as well.
The Shefa Bakery Manager shares that the Bakery makes about 10,000 loaves of bread a week. It has 24 workers that have not been able to work since the bakery has closed saying; "Shefa has an agreement with Chuan, it supplies our flour but as of late they have been shifting the dates for the arrival of flour. We are now expecting our flour on the 18th of November".
Unlike the Brother and Shefa bakeries, La Parisienne maintains its bread production at this time.
La Parisienne accounts officer, Karol Nikahi shares that the bakery is maintaining its production of 12,000 loaves of bread weekly.
The accounts worker stated the bakery is not facing a shortage in flour at all since it has much in stock and the recent increase in price from VT60 to VT70 per loaf of bread is not due to the flour shortage at all.
"The VT10 added to the normal prices is more to do with freight and shipping costs. Importing has become costly and the VT70 price increase is related to that and not the shortage of flour," Nikahi explained.
Among the bakeries, La Parisienne has been the first to shift its prices to accommodate the costs of freight and shipping.
While Ah Pow confirms that it still maintains its VT60 per loaf along with Brother and Shefa bakeries. The shortages and costs may soon lead to an increase in the market price of bread completely; as flour is a household staple in the country, similarly so is bread and baked goods.