9 benefit from joint AUF, VCCI Small Business Management Training
November 17, 2021 3:12 am | Posted in Business News | Share now TwitterFacebook
By Josepheen Tarianga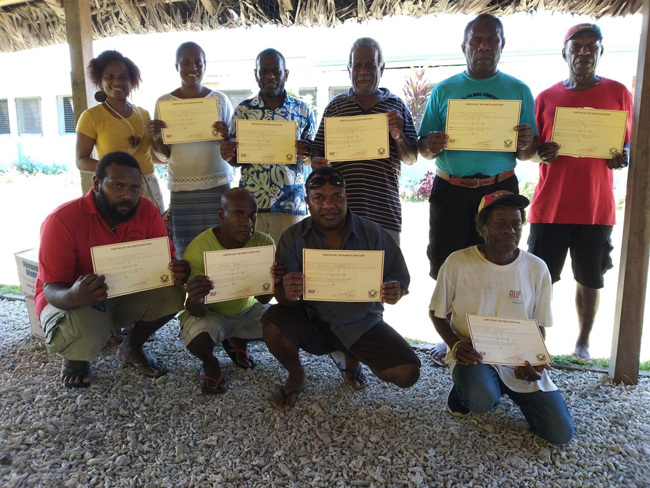 The Agence Universitaire de la Francophonie (AUF) has partnered with the Vanuatu Chamber of Commerce and Industry (VCCI) to run a successful Small Business Management Training (SBMT) on Malekula.
The SBMT is an initiative AUF and VCCI have established in order to help small business entrepreneurs on Malekula manage their Businesses in a sustainable and efficient way.
This training is the first of its kind delivered by AUF's Coordinator and assistant facilitator Bosco Boukone, as well as Mrs. Clare Lee and Mrs. Joelene Sosol from the VCCI.
Mr. Boukone said the SBMT is the first management training of its kind that AUF is delivering, as the university provides more online courses and previously a training for IT technicians.
The training took place on the 9th to 12th of November at The University of the South Pacific (USP) sub-centre in Norsup, Malekula.
AUF and VCCI worked with the provincial education office that carried out a selection of 9 participants to take part in the SBMT.
The participants came from all over Malekula with businesses in different sectors. These include: a kava farmer, fisherman, public transport owner, cocoa buyer, copra buyer, football training center manager, kindergarten manager, poultry farming and kava bar owner.
Pierrot Melteck was a participant in the training. He owns a transport and expresses that he was glad to attend the workshop and would be open to participating in future workshops.
"I now have an idea as to where my business is in terms of growth, this training has helped greatly," he said. "I can now identify what I am doing with my business at present."
Cocoa buyer, Metsan Anaclet, shared that participating in the workshop has given him clear ideas on how he can surely grow his business.
Mr. Boukone noted the participants were dedicated to the training.
"There was a different range of experiences and expertise shared, they learned about things such as financial management, business canvas and planning.
"I think the outcome of this training was very good."
At the end of the training, the participants formed an association for entrepreneurs on Malekula called "Malekula Entrepreneurs Association."
The AUF Coordinator and assistant facilitator expressed that with the success of this training the partners will be looking to carry out more trainings such as these through the different provinces in Vanuatu.