FIRST NI-VANUATU FISHERIES OBSERVER REPATRIATED BY SEA
October 29, 2020 11:13 pm | Posted in Business News | Share now TwitterFacebook
Terence Malapa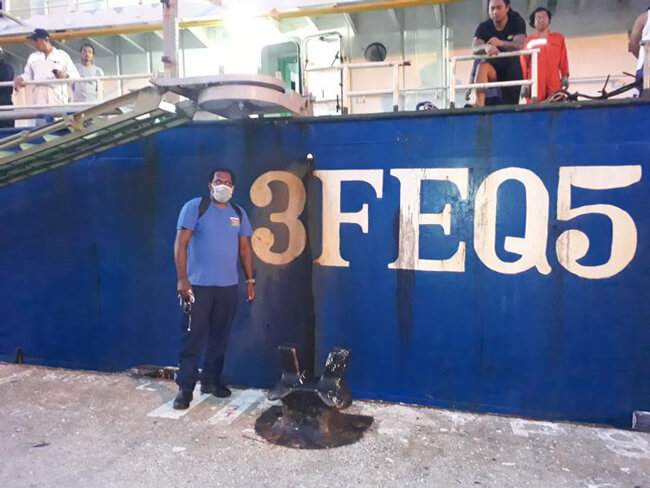 As borders remain close because of COVID-19 restrictions, a unique repatriation happened this week in Port Vila with Vanuatu Fisheries Observer, Joshua Paolo, reportedly being the first person to be repatriated from abroad by sea.
The 95-metre Panama-flagged Fish Carrier Reefer, Shin Ho Chun 102 3FEQ5, called into Port Vila harbour specifically for the repatriation of Mr. Paolo, who served on board the vessel as a Fisheries Observer in the Western and Central Pacific Fisheries Commission (WCPFC) and Inter American Tropical Tuna Commission (IATTC) high seas.
Mr. Paolo departed Vanuatu on December 29, 2019 to board a Fish Carrier vessel SHIN HO 101 / 3FRF9, after arriving in Kaohsiung, Taiwan, via Nadi and Hong Kong on January 1, 2020, where he boarded the vessel and departed Kaohsiung port on January 8, 2020 for the high seas.
He was later safely transferred from Shin Ho Chun 101 to Shin Ho Chun 102 3FEQ5 on April 19, 2020. The vessel concluded its trip in Levuka, Fiji, on October 3, 2020.
Due to the COVID-19 pandemic borders were closed and flights cancelled, leaving a lot of people stranded away from their respective countries.
However, fishing in the WCPFC, IATTC and other regions continued as normal but presented a dilemma for the hardworking Fisheries Observers as flights were closed at all offloading ports in Asia as it is a "High Risk" COVID-19 Area.
The Vanuatu Department of Fisheries then proposed the sea port repatriation to the National Disaster Management Office, health authorities, and all border agencies.
Once authorization was acquired from the Vanuatu authorities, the vessel departed Levuka, Fiji, with Mr. Paolo on board on the 24th of October 2020 bound for Port Vila.
All Vanuatu Seaport COVID-19 protocols were fully applied in ensuring that personnel involved in the repatriation were safe: Vessel arrived in port and berthed, once disembarked, the Fisheries Observer underwent COVID-19 checks by Health Officials, Customs and Immigration formalities applied, the vessel was then cleared by Customs prior to departure from Port Vila harbor on the same day.
The overall disembarkation process lasted less than an hour.
Mr. Paolo was then transported to the quarantine facility to undergo the required 14-day isolation period.
Vanuatu Fisheries Observers play an important role in collecting fisheries data onboard Vanuatu licensed or flagged as well as foreign flagged vessels in Vanuatu and other waters.
The data collected is used by national, regional and international fisheries bodies to make sound management decisions on fisheries resources. The work of a fisheries observer aboard a fishing vessel is not for the faint of heart.
The department is grateful for the sacrifice these group of young men and women have made to ensure the utilization and management of Vanuatu's fisheries resources are well documented.
There are 10 Fisheries Observers still on active duty on various carrier vessels within the WCPFC Region and 4 on tuna Longline vessels based in Apia, Western Samoa under the Vanuatu National Observer Program.
The Fisheries Department continues to maintain regular communication with the fisheries observers using their InReach 2-way satellite communication devices by sending messages, as well as satellite vessel monitoring of the vessels on which the observers are placed on.
Regular communication is also maintained with vessel agents and owners to eventually repatriate all remaining Vanuatu fisheries observers when their respective trips end.
The Department of Fisheries met the costs for the first repatriation.