Countdown to Vanuatu's biggest music festival
October 29, 2020 11:06 pm | Posted in Business News | Share now TwitterFacebook
By Adorina Massing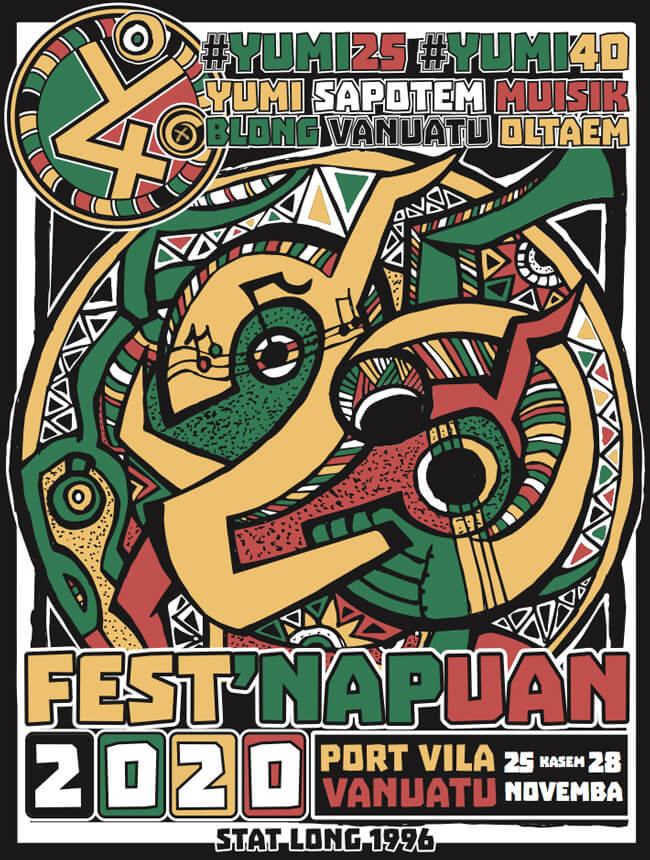 One of the greatest and most prominent Music Festival in the Pacific — Fest'Napuan is drawing near and has shown promise with the reveal of this year's artwork logo, designed by a Ni-Vanuatu artist.
In early September, the Fest'Napuan Committee held a contest in the country for the logo design with a prize award of Vt35,000.
The winner of the competition was well-renowned ni-Vanuatu artist Julliette Peter, from Erromango island.
Julliette is the first female artist in Vanuatu to create a Fest'Napuan Logo.
Her design features the figure: "25" which is celebrating the 25 years of the festival's initiation in 1996 and in recognition of Vanuatu's 40th anniversary, as well as one of Julliette's trademark abstract figures, which represents 'Man Vanuatu.'
The artist has worked with local design consultant and the Fest'Napuan Committee volunteer Hunter Sizemore, to prepare and finalise the logo.
Mr Sizemore said they received many creative and inspiring ideas and encourage everyone who submitted to continue their perusal of creative arts, "no doubt many of them will be future Fest'Napuan logo artists".
T-shirts will be on sale at the event, for early purchases, please follow the Fest'Napuan page on facebook.com/festnapuan
Stalls are still on sale at Florabunda, Vt30,000 / 4 days. You must have a food safety certificate to operate a stall.
The name 'Fest'Napuan' is a combination of two words, the word 'festival' from English and French, and the word 'napuan' from one of the languages of the island of Tanna, which means music and dance.
The 4-day festival is scheduled for November 25-28 at Saralana Park.