Fibreglass Vanuatu Protects Fibreglass Boats
July 13, 2020 4:14 am | Posted in Business News | Share now TwitterFacebook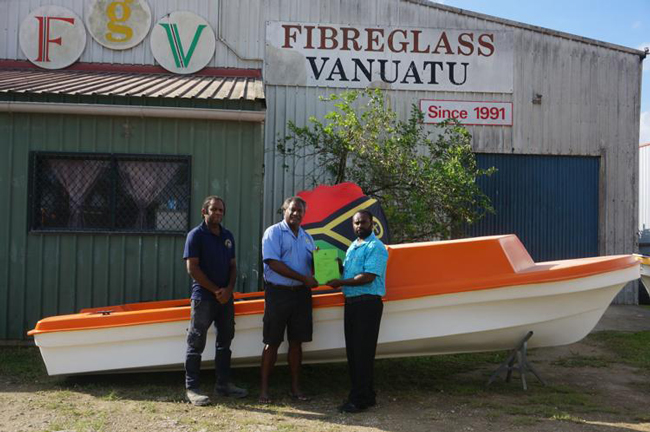 After 29 years of its existence in Vanuatu, well known ni-Vanuatu owned manufacturing business, Fibreglass (Vanuatu) Ltd, has registered its popular fibreglass boats under the Designs Act No. 3 of 2003.
It is the first local product design to be approved and registered by the registrar of the Vanuatu Intellectual Property office.
With the guidance of Iapatu Railau Sam, Senior Designs & Patents Officer, in the Vanuatu Intellectual Property Office under the Ministry of Trade, Tourism, Industry and Ni-Vanuatu Business, the company followed the appropriate process in registering the designs: 7 metres and 5.8 metres fibreglass boats. With increasing threat of Intellectual Property Infringements, Managing Director of Fibreglass Vanuatu, Geordie Mackenzie-Reur, made a right decision to ask the guidance of the Intellectual Property office for advice to protect the boat designs which are unique for Vanuatu waters.
Production Manager, Jason Mackenzie-Reur, provided the technical specifications of each boat as required in the application process. Application process began in October 2017 and over two years later the 7 metres fibreglass boat was registered in December 2019 and 5.8m boat in June 2020.
This is a great achievement for a local manufacturing business in receiving the certificate of registration as it gives the company the exclusive right over their designs of the 7m and 5.8m fibreglass boats.
The Vanuatu Intellectual Property Office encourages other local businesses that have created their own designs/products to go to the office to seek more advice on how to protect their different products under the different Intellectual Property laws of Vanuatu as this is the same footsteps the Fiberglass Vanuatu have followed to get their designs registered under the Design Act No.3 of 2003.
Timing for this special achievement coincides with Department of Industry initiative for local companies to register "Vanuatu Made Brand" with pride on their products and to celebrate Vanuatu maturity to its 40 years of Independence.