RBV supports Dep't of Cooperatives with VT5M
July 13, 2020 4:01 am | Posted in Business News | Share now TwitterFacebook
Compiled by Glenda Willie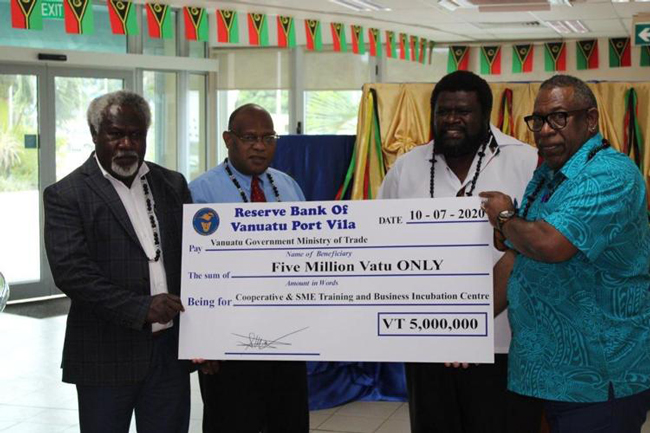 The Reserve Bank of Vanuatu (RBV) has supported the Department of Cooperatives with a financial assistance of Vt5 million.
The fund was used to purchase computers and furniture for the soon to be established Cooperatives and SME Training and Business Incubation Centre.
Speaking at the occasion yesterday morning, Governor of RBV, Mr. Simeon Athy acknowledged that the initiative to establish the training centre is most welcoming, as it aligns with the Bank's MSME and Financial Literacy efforts by addressing issues raised from past surveys such as lack of basic business trainings, lack of knowledge in managing business finances, and lack of understanding in preparing required financial documents, such as financial statements and business plans.
"The Reserve Bank believes that an institution such as the soon to be launched Training Centre, will address the above-mentioned challenges, and further support the sustainability, resilience and prosperity of Cooperatives and SMEs/MSMEs in the country," Governor Athy stated.
He added, "It is important that affiliated members, Entrepreneurs and Business Owners are provided with proper tools- business management skills and facilities that will enable them to hatch business ideas, receive coaching and mentoring assistance from qualified personnel and according to relevant standards."
Athy pointed out that it is against these underlying factors, that the Reserve Bank has pledged its unconditional support towards the establishment of this training center.
The Governor stressed that it is our hope that with the establishment of such an institution, the Cooperatives and SME Sectors, including marginalised groups, will improve their business management skills and as a result, will observe fewer business closing down due to operation inefficiencies and mismanagement.