Contract signed for construction of juvenile centre
September 14, 2020 10:54 pm | Posted in Business News | Share now TwitterFacebook
By Anita Roberts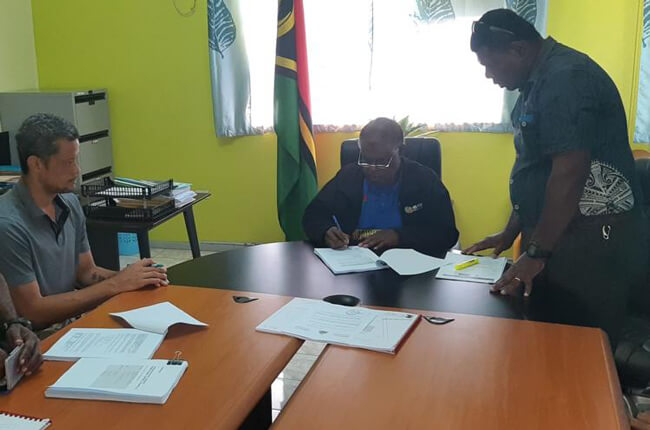 The Government has awarded the Vt40 million contract for the construction of the country's first Juvenile Detention Centre in Luganville to ED Enterprise.
A juvenile centre is a prison for offenders under the age of 18.
The construction contract was signed yesterday by the Minister of Justice and Community Services, Esmon Saimon and Kim Pinh from ED Enterprise, in the presence of the Director of the Department of Correctional Services, Johnny Marango and the Director General (DG) of the Ministry of Justice and Community Services, Dorosday Kenneth.
Under the contract, the construction of the juvenile detention centre is expected to be complete by February 21 next year.
Director Marango said transparent process was followed in awarding the contract, abiding with the tender procedures and endorsement from the Council of Ministers (COM).
The juvenile centre will be designed and operated in a way that is friendly to children and youth, he said.
Juvenile offenders are usually given community-based sentence options but sometimes serious offenders are kept in adult facilities, he said.
According to Director Marango, there are plans to establish juvenile centers on Tanna and Malekula that have high juvenile offenders.
"The proposed budget for the Tanna centre is around Vt56 million.
"The government is yet to secure the budget," he conveyed.