AVL: Passenger Traffic Reduced
September 14, 2020 11:03 pm | Posted in Business News | Share now TwitterFacebook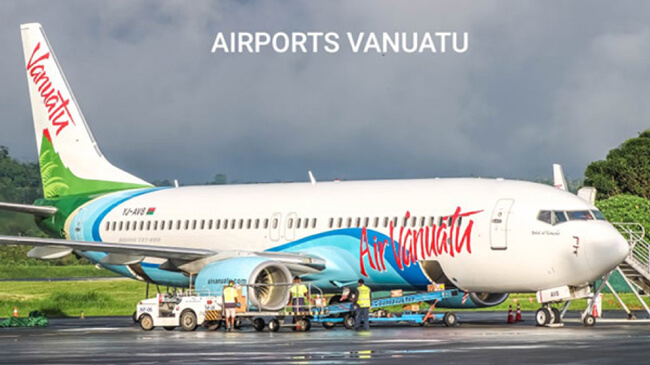 Overall passenger traffic is 76% down on a year ago. This means only one person is travelling now, for every four people previously.
This was conveyed via Airports Vanuatu Ltd (AVL)'s recent update to stakeholders on the importance of air access and the flow on implications to the lives of every Vanuatu resident.
Borders closed since March; passenger traffic decimated
Vanuatu's borders have been closed for nearly six months under the State of Emergency.
• Overall passenger traffic is 76% down on a year ago, meaning only one person is travelling now, for every four people previously.
• Domestic flying recommenced relatively quickly in April, but capacity has been constrained by Air Vanuatu's available fleet. The 68-seat ATR aircraft which has served Tanna, Santo and Port Vila has been stranded overseas during maintenance. Domestic passenger movements for the August quarter are down 56% on a year ago.
• International air travel continues to operate in a limited capacity under the direction of the National Disaster Management Office to enable humanitarian relief, repatriation and cargo flights. Just over 3,000 international passengers travelled during the August quarter, 97% down on a year ago.
Ni-Vanuatu impacted by reduced access to air travel everyday
AVL believes air travel is essential for the social and economic health of our nation and our people. CEO, Jason Rakau, commented, "Air services are essential to every one of us, even though not everyone in Vanuatu actually flies. Delivery of the social aspects of The People's Plan relating to health are under threat, without regular air access. Health, education, seasonal worker programmes, visiting technical specialists — many people are impacted by limited air services, resulting in constrained supply lines and freight. Air access is the key enabler of global connectivity and since the borders closed, without access to air travel and freight and limited sea freight, every Vanuatu resident will have seen an impact on their quality of life. We welcome the certainty that Air Vanuatu's limited air services through to December have given our community. As a first step, fortnightly services will operate for cargo and repatriation to Auckland, Brisbane, Noumea and Nadi".
AVL committed to contributing to the Tamtam Bubble and working closely with other agencies
AVL has taken a prominent role behind the scenes in recovery planning and its key consideration in all decision making is public health and acting on the advice of the Ministry of Health. It is preparing for the reopening of borders when it is safe to do so, to welcome back international visitors and kickstart the larger economy. While COVID-19 situation remains challenging in Australia and New Zealand, AVL urge decision makers to continue to take a pragmatic approach to aviation, and work with ourselves, Air Vanuatu and the NDMO in the provision of flights which can bring critical cargo.
Kevin Abel, General Manager Operations for AVL, commented, "We need to maintain our aviation assets for safe and compliant operations at an airport and airline level, to ensure that we are able to continue to operate essential air services through limited international flights operations commencing now, through to the end of the year, and then to be ready to reengage with the world, when the time is right".