China donates 40 computers to Vila Central School
November 20, 2021 11:49 pm | Posted in Business News | Share now TwitterFacebook
By Hilaire Bule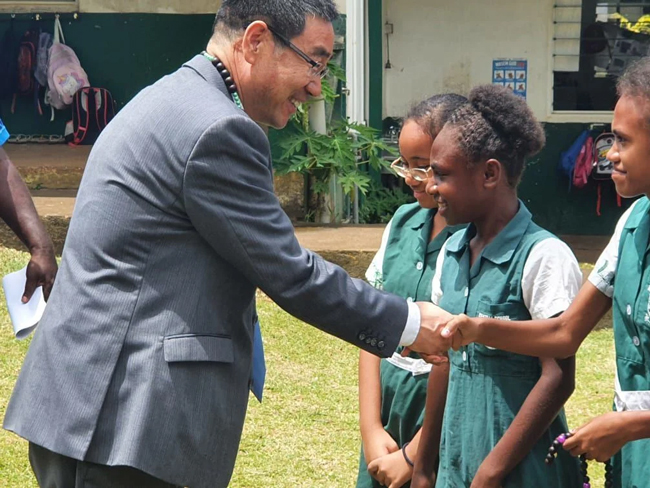 Chinese Ambassador to Vanuatu, Zhou Haicheng, donated 40 computers to Vila Central School in Port Vila this week.
This followed the request of the school and the signing of a Memorandum Of Understanding (MOU) on what is known as Joint Chinese Language Education in primary and secondary schools in Vanuatu two months ago, between China and Vanuatu.
Mr. Zhou said the donation is the latest progress of the implementation of the MOU and his hope is that the computers which are donated Foshan City will help Vila Central School to establish their multimedia classrooms and to enhance the interest in learning Chinese.
"Friendship which derives from close contact between the people, holds the key to sound state-to-state relations," he said.
"Educational exchange serves as the foundation for cultural and people-to-people exchanges while language learning connects the hearts of the people.
"In recent years, the world demand for Chinese language learning has increased. At the end of 2020, over 180 countries and regions are conducting Chinese language education, more than 70 countries have included Chinese language education in their national education system. Over 20 million people out of China are learning Chinese language."
He said in 2019, Mandarin was designated as the first foreign language to be taught in schools and for that reason, three Chinese teachers are now working in Vanuatu. The Chinese Ambassador said many parents believe that learning Chinese will help their children develop successful careers and more and more young Ni-Vanuatu citizens have approached the USP Confucius Classroom and join their peers to learn Chinese.
"We are glad the see that Vanuatu's "China Craze" is ascendant," he said. "We are so impressed by the enthusiasm of Ni-Vans students' for the Chinese language and culture, the great progress they have made and their eagerness to learn more."
Studying in China has become a top choice for students in Vanuatu. Altogether, 199 Chinese government scholarships have been awarded to Vi-Vanuatu students since 1995. Facts showed that studying in China will open a new chapter for the life of young Ni-Vanuatu which will equip them with knowledge and skills acquired, help them grow to be the pillars of Vanuatu national development and good-will ambassadors for China-Vanuatu relations.
Mr. Zhou said China will continue to support Chinese language teaching in Vanuatu, offer more practical and effective support within their means and promote China-Vanuatu educational cooperation and comprehensive strategic partnership to new heights.
Minister of Education, Samson Samsen, was at Vila Central School to receive the computers and handed them to the administration of the school. Mr. Samsen took the occasion to thank the government of China for his donation.