ANZ sponsors VT200,000 cash-prize for the best 2020 Namatan Short Film
October 29, 2020 10:28 pm | Posted in Business News | Share now TwitterFacebook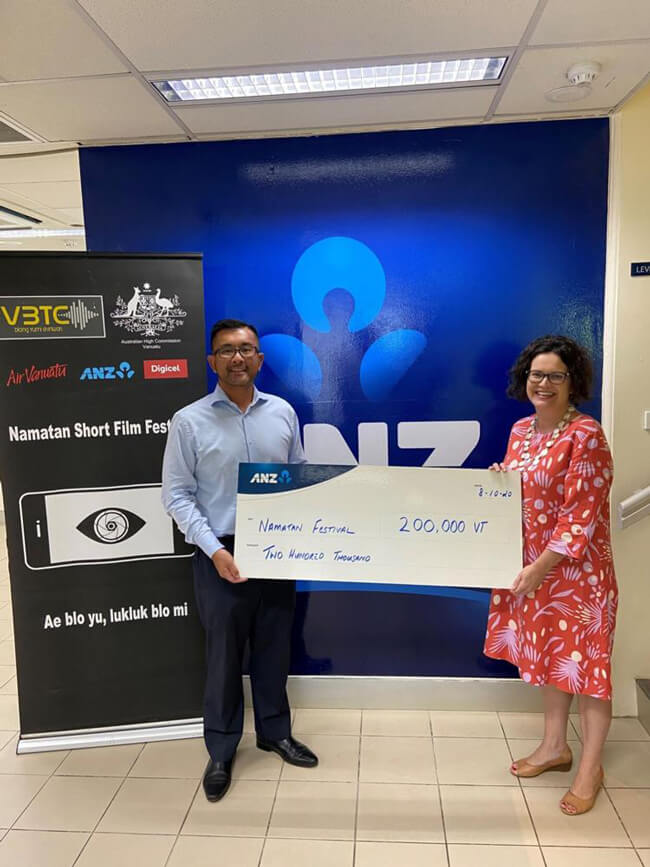 The ANZ Bank in Vanuatu will award VT200,000 as a cash-prize to the filmmaker of the best 2020 Namatan Short film this year.
In previous years, the ANZ Bank's support for the Namatan Short Film Festival has helped boost the festival in attracting Vanuatu's most talented filmmakers.
The Chief Executive Officer (CEO) of ANZ Bank, Sheng Lee, officially handed over VT200,000 to Australia's High Commissioner to Vanuatu, Sarah deZoeten, for the 2020 best Namatan Short Film, which is now named the ANZ Bank First Prize award.
"Thank you ANZ Bank for continuing your generous support to the Namatan Short Film Festival. ANZ's sponsorship of 200,000 vatu for the best Namatan short film is sure to attract Vanuatu's most talented film makers," said High Commissioner Sarah deZoeten.
"Since its inception in 2012, the Namatan Short Film Festival has grown from strength to strength. I'm very pleased the Namatan Festival rewards local talent and creativity."
To mark Vanuatu's 40th anniversary of Independence and 40 years of diplomatic relations between Australia and Vanuatu, this year's "unique item" for the Namatan Short film festival is '40'.
"ANZ are thrilled to again participate in the Namatan Short Film Festival, especially to mark the 40th Independence Anniversary. The festival showcases local film makers and creates a positive impact to the communities we live in; this is absolutely aligned to ANZ's purpose, we look forward to another successful event," said ANZ Bank CEO Lee.
"ANZ must be commended for continuing to support such an initiative and VBTC looks forward to maintaining this partnership beyond 2020," said the Vanuatu Broadcasting & Television Corporation Chief Executive Officer, Mr Francis Herman.
The 2020 Namatan ANZ Bank First Prize award winner will be announced at the finale event on Saturday 5 December 2020 at Saralana Park during VBTC's one week Christmas-in-the-Park event.
All short films must be submitted to VBTC or to the Australian High Commission by 4.30pm on Monday 9 November 2020. Further information about the Namatan Short Film Festival including the entry form and terms and conditions are available on the Australian High Commission's website: https://vanuatu.embassy.gov.au/pvla/events.html and the Namatan Short Film Festival's Facebook page.
The Namatan Short Film Festival is an initiative of VBTC and the Australian High Commission and is sponsored by Digicel Vanuatu, ANZ Bank and Air Vanuatu.