Ambae Innovator legally recognised as original creator of string basket
May 19, 2022 1:03 am | Posted in Business News | Share now TwitterFacebook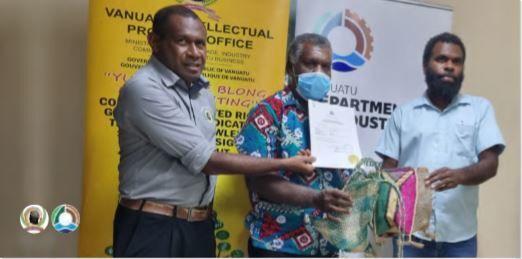 Ms Hannet Woi of North Ambae has been legally recognised as the original creator of the trendy Ambae string basket.
This means from now onwards, if any vendor wishes to engage in the string basket business, they are required to obtain Woi's permission and be her agent, to be able to sell her products.
Minister responsible for Tourism, Trade, Commerce and Ni-Vanuatu Business, James Bule, was given the honor by the Vanuatu Intellectual Property Office (VanIPO) to hand the legal Intellectual Property ownership right to Ms Woi as the original inventor and creative weaver of the string basket.
Due to COVID-19 travel restrictions, Ms Woi cannot travel to Vila to receive her certificate. As such, her certificate was received by the Acting Director of Industry, Mr. Noel Kalo, on her behalf.
VanIPO acknowledged the Ambae string basket is now a popular brand within the handicraft sector, attracting a lot of attention from locals as well as international tourists. It was Woi's imagination, wisdom, and creative arts of weaving pandanus leaves to produce such a unique handicraft that resulted in the rich traditional art from her area of origin in Ambae.
Through the skills partnership program under TVET, and implementation of the Handicraft Sector Action Plan 2018-2020 coordinated by the Department of Industry, community awareness has been conducted throughout Vanuatu's provinces.
Community weavers are encouraged to come forward and register their Intellectual Property rights to protect their creativity within the market. This is the only legal avenue to address the issue of counterfeits within a market.
VanIPO noted the handicraft sector is a very big sector which involves a lot of women and girls who come together to weave for various purposes. They play a very important role within the tourism value chain in terms of producing traditional handicrafts as souvenir gifts to tourism. With the border reopening in July, a lot of weavers and handicrafts vendors will get back in business soon.