Green Coop Establishes Greenhouse Nursery
May 19, 2022 9:32 pm | Posted in Business News | Share now TwitterFacebook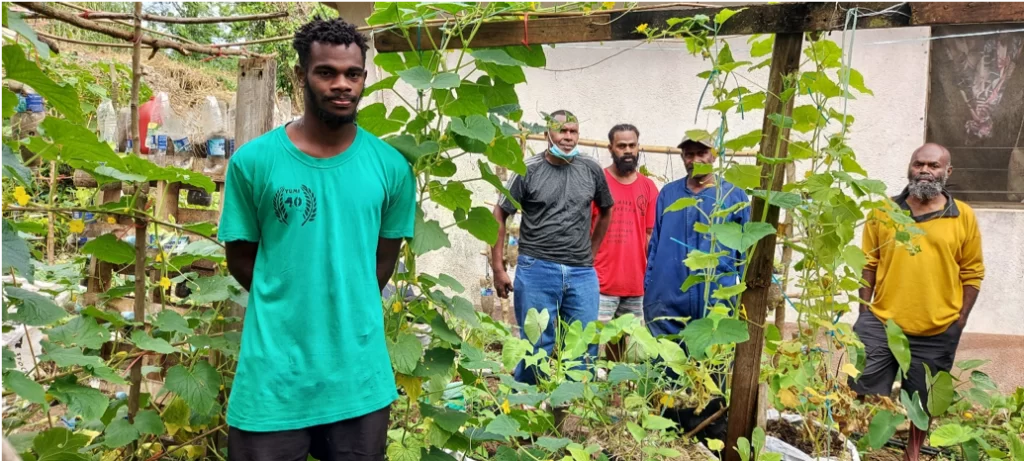 Green Coop, a business arm of Huarere, has implemented the greenhouse initiative in the Huarere community.
The initiative to establish a greenhouse purposely to sow vegetable seeds was inspired through a dialogue between the Department of Agriculture and Rural Development's (DARD) Director and popular singer and lead vocalist of the Huarere band, Ben Siro.
Mr. Siro, was one of the participants of the second Vegetable Cultivation Technology training that took place in 2019, jointly organised by China's Longping High Tech company, the Ministry of Agriculture, Livestock, Forestry, Fisheries and Biosecurity (MALFFB) through the Department of Agriculture and Rural Development (DARD) and Vanuatu Institute of Public Administration and Management (VIPAM).
Mr. Siro stated that this initiative of creating a greenhouse especially for vegetable nursery has arrived at a time of COVID-19 crisis where there is high demand of local food supplies and Port Vila residents needs of accessing vegetables seedlings for backyard gardening to ensure food security.
"A greenhouse plan was drafted and a consultation with the Huarere community was conducted and the community agreed it was a good project," he said.
"The DARD is very supportive of this greenhouse project and has assisted us with shed net, seed trays and vegetable seeds to start off with.
"The Huarere community really appreciated and acknowledged the assistance offered as it motivated us to actively implement the activities of the project."
Farmer Siro added that with the current COVID-19 challenges Vanuatu is encountering, many urban dwellers especially government employees and other private company workers, who are eager to do backyard gardening do not have time to raise vegetable seedlings so the first sale of vegetable seedlings indicates a positive outcome.
"We have sowed vegetable seeds on 100 seed trays and all vegetable seedlings trays were already sold out at VT500 per tray and VT100 per poly bag.
"I have observed that there is a very high demand of vegetable seedlings as people really need vegetable seedlings to plant at their backyards.
"Establishing this greenhouse is a very good project for our communities as it assists us with minimum income and provides fresh vegetables for our families through backyard gardening.
"The Huarere community are committed to do backyard gardening and this activity has motivated the community to continue planting vegetables because of its benefits.
"Our focus is to produce more vegetable seedlings in huge quantities to ensure the sustainability of the project and also assisting Port Vila residents to access seedlings for their backyard garden."
Mr. Siro expressed, "The concept of Green Coop is of a Cooperative of Farmers' Association. Farmers and interested individuals will have to pay a membership fee of VT5,000 for one year.
"Members spending VT1,000 to buy vegetable seedlings will see a deduction of VT100 deposited into their accounts and at the end of each year, members will receive their shares.
"Green Coop will be assisting its members also by purchasing their vegetables once harvested.
"The establishment of this first greenhouse is a trial and it was successful so plans are in place for future development of this project.
"Increasing the production of vegetable seedlings from 100 to 1,000 seed trays monthly is our aim for the coming months.
"The Huarere Community still have available space for another greenhouse so due to the high demand of vegetable seedlings, we can build another greenhouse focusing on sowing vegetable seeds to meet the high demand of urban dwellers."
As a singer and entertainer, Mr. Siro, says musicians do not make any revenue during the COVID-19 crisis following the strict health protocols imposed by the Ministry of Health and there is no support from the government.
"The only way out to sustain my family's livelihood is agriculture.
"It gives me new life and new hope for tomorrow," he said.
"To wake up daily to see the green vegetables around my house heals my soul, brings good health to the community and also provides income.
"We still need technical assistance from the DARD to support us to develop this greenhouse project as it is totally a new direction for my community in terms of maintaining supply of seedlings, quantity and quality of the crops.
"We will also need assistance from the Department of Cooperative in regards to training on how to manage a Cooperative and other vital aspects of operating a Cooperative.
"I would like to encourage other musicians who are struggling to survive amidst the COVID 19 situation to return to agriculture as it is the only way out to sustain livelihood and to ensure food security at home."
Recently, the DARD's Vegetable Specialist, Heggar Molisa, visited the greenhouse to see the progress of the project and at the same time, provide some technical advice on areas that needs improvement.
Vegetable Specialist, Molisa, says she was impressed to see how farmer Siro has put the skills and knowledge attained from the Vegetable Cultivation Technology training into practice.
"The training has provided basic knowledge and skills on how to do vegetable farming," she said.
"The Green Coop greenhouse nursery is one of the first greenhouse established in Port Vila and it is amazing to see how the Huarere Community has managed to implement such project.
"Raising vegetable seedlings or managing a vegetable nursery is a huge challenge for many farmers.
"Farmers tend to access seedlings for direct transplanting instead of sowing their own seeds."
Molisa mentioned Farmer Siro has used all the skills and techniques required to sow seeds in a nursery and the management practices. This is a positive impact of the training he has attended.
"I have noticed that the community also do backyard gardening, making good use of available spaces and resources they have and this is a good way forward in ensuring food security in urban areas," she said.
"A few challenges raised during the visit includes accessing of top soils and upgrade of the greenhouse nursery."
The Vegetable Specialist has assured the community that the DARD will continue to help ensure sustainability of the project.
"The DARD's backyard garden program for this year will support Green Coop with nursery materials to improve their greenhouse and a backyard garden training to improve their skills and knowledge that they already have," she added.
"The Huarere community has taken a step forward to demonstrate their commitment, passion and their interest in backyard gardening and this shows that in the future, the community can implement a bigger project."