JICA donates VT25M worth of fishery equipment
May 19, 2022 12:58 am | Posted in Business News | Share now TwitterFacebook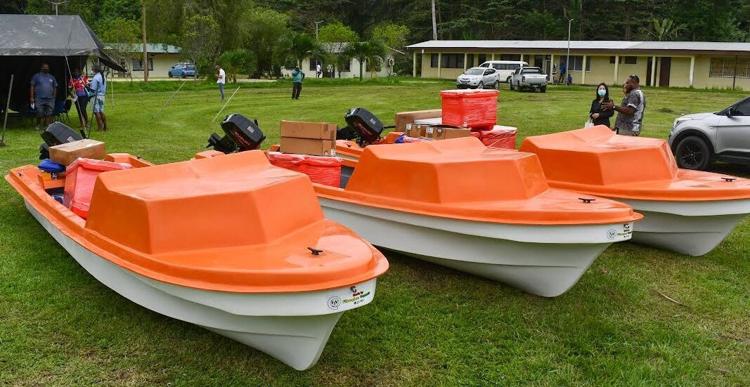 The Department of Fisheries (DoF) has recently received some fishery equipment worth VT25 million from the Japan International Cooperation Agency (JICA). This is part of the Sea Project Phase 2 being implemented in many islands throughout Vanuatu.
Through the whole phases of the project, JICA and VFD have tried to disseminate coastal fisheries resource management methodology in collaboration with the coastal communities.
This time, JICA handed over seven units of 7m long FRP boats with Suzuki brand 40 HP outboard engines and two sets of Deep Sea Deck Winch, 50 pcs of 200 L Eskies, 15 units of Solar Power Freezer Units, 140 sets of Bottom Fishing Equipment Sets and 140 sets of Trolling Devices.
The total value of the equipment is VT25,000,000.
Since 2006, JICA and VFD started the Coastal Resource Management Project and as a result, VFD completed the Community Based Coastal Resource Management (CBCRM) guideline first in the Pacific last year.
Under the COVID-19 situation, JICA could not dispatch the Japanese expert to Vanuatu for nearly two years. However, VFD had successfully drafted and completed the CBCRM Guideline with online support from Japanese experts.
JICA and VFD already agreed to extend the project until March 2023, and the total cooperation period will be more six years. This means this project is the longest technical cooperation project in Vanuatu.
"Even under COVID-19 situation, VFD implemented and completed the CBCRM guideline first in the Pacific," Resident Representative of JICA Vanuatu Office, Rika Uemura said.
"This will be good example for other Pacific countries especially for in Melanesia. JICA wishes to see VFD continuing to support people and community in coastal areas and to maintain marine resource."
Director General of the Ministry of Agriculture, Livestock, Forestry, Fisheries and Biosecurity (MALFFB), Moses John AMOS said, "VFD has been keeping long time good relationship with JICA since 2006 and also many VFD staffs had participated JICA Training in Japan."
Uemura added, "JICA could not dispatch Japanese expert for two years. But we understand the Government of Vanuatu had announced that border would be opened from this coming July. JICA would like to take necessary measures to bring Japanese experts to Vanuatu and assist more capacity development of VFD July 2022 onward and also VFD staff travel to Japan for more training."
Three times JICA training participant and Deputy Director of VFD, Sompert Gereva said, "According to JICA, additional equipment will be provided from Japan soon. All the equipment provided by JICA will be distributed soon to all six provinces for the community and people of Vanuatu as VFD's responsibility."